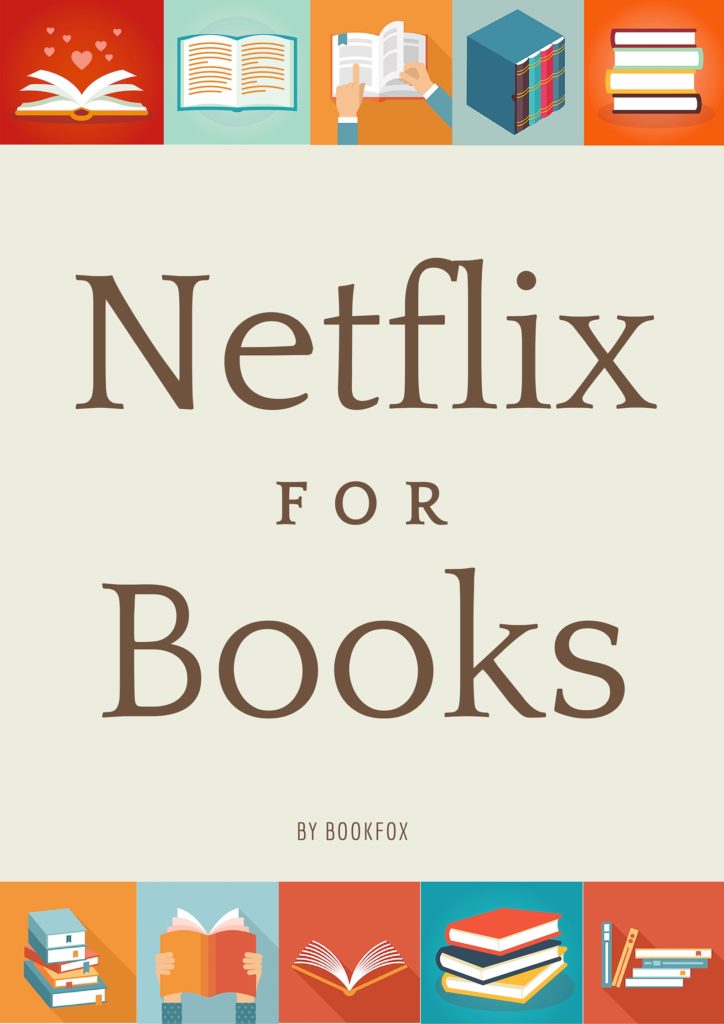 If you want to rent books through a "Netflix for books" service, which one is the best? 
First of all, you should choose one that won't shut down in a year or two. There are several companies that tried to offer a "Netflix for books" and failed, such as Oyster and Entitle.
But Scribd, Booksfree, Bookmate and Amazon are still operating and renting books. 
There are also two companies breaking the boundaries by providing books in alternate ways: Bookbub is driving readers to book sales through a "Groupon for books" style company, and there are also some companies starting to operating a "Redbox for books."
If you'd like to know the best company for "Netflix for books," keep reading — there are reviews and comparisons for all four services.
Four "Netflix for Books" Companies:
Scribd
Scribd's e-book subscription service is available on Android and iOS smartphones and tablets, as well as the Kindle Fire, Nook, and computers.
Best features of Scribd:
It has over a million titles from 1,000 publishers.

It has garnered over 80 million users and it is a powerful example that the idea can work.

They don't only carry books, they carry other things including comic books.
Scribd doesn't include romance or erotica, because they found that people would burn through those books too quickly and Scribd would end up losing money on them. Still, a rotating selection of books are available for unlimited reading.
For $8.99 a month, Subscribers receive unlimited reading from Scribd's "selected books" and enough credits to read three books and one audiobook per month from the entirety of the library. The unused credits roll over to the next month to use for e-books not on the new rotation.
If you just want to try it out, they have a free 14-day trial. 
Booksfree
Booksfree, which started in 2000, is the oldest of all the online book subscription services.
Best features of Booksfree:
They have over 250,000 titles

13,000 subscribers

They've also developed a service which they refer to as book swapping, which is kind of like a secondhand book market. They help their members sell their old books to other members. If the website doesn't have a book, you can place it on your wish list and if another member is swapping the book it will hook them up.
In the last few years they also added an audiobook download and streaming service where people pay by the book rather than a flat rate.
Booksfree's membership plans are offered for each genre on a monthly basis starting at:
Unlimited Book Plan Pricing:
2 books at a time – $15.99

4 books at a time – $19.99

6 books at a time – $26.99
Limited Book Plan Pricing:
2 books per month – $8.99

4 books per month – $15.99

6 books per month – $21.99
A plan combining the various memberships is also available.
Each plan limits the number of items that can be checked out at any one time. Subscribers can pay a higher monthly fee in order to increase that limit. It is also possible to rent individual titles without having any membership plan. The only problem is that they are still much smaller than some of their competitors, their unique offerings is what keeps them from falling apart.
Amazon
Amazon has its own type of e-book subscription known as Kindle Unlimited, which is currently the largest Netflix for Books.
Best features of Kindle Unlimited:
It offers over 1 million titles and thousands of audiobooks for $9.99 a month.

The e-books can be read on multiple other devices as long as you install the Kindle app.

It offers audible audiobooks with the e-books when you buy them allowing you to switch between reading and listening without losing your place.
Right now Amazon has the best subscription service in the game. They have more titles than anyone else, and what's more, they offer a free 30-day trial where you can just test it out.
Also, their audiobook selection beats out both Booksfree and Scribd. I would also guess that Amazon, since it's such a fierce competitor, will keep growing and offering more selection and more price, so if you want to buy into a particular platform for "Netflix for Books," Amazon would be your best choice.
Bookmate
Bookmate is an app that you can use on your phone, tablet or computer. 
Best features:
Unlimited access to books

12 Different languages offered

A 650,000 book library
If you don't want to pay the 8.99, Bookmate has the cheapest service available of all four ebook subscription services. For a mere $4.99 a month, you have access to all their books except new books and bestsellers. 
Out of the four services, it also has the sexiest interface. It's very well designed and very easy to navigate. It gets bonus points for making use for user-friendly.
Comparing the Four Services:
| | | | | | | |
| --- | --- | --- | --- | --- | --- | --- |
| | Monthly Price | Free Trial | Includes Audio Books? | Selection Quality | Number of Books Monthly | Shipping |
| Scribd | $8.99 | 14 days | One per month |  1 million books |  3 books & 1 audiobook |  All e-books |
| Booksfree | $8.99 | No | For an extra fee |  250,000 books | 2 books | Free Shipping |
| Amazon | $9.99 | 30 days | Yes, unlimited |  1 million books |  Unlimited | All e-books |
| Bookmate | 8.99 | 30 days | No | 650,000 books | Unlimited | All e-books |
Final Verdict:
Let's look at a cross-section of people and see which service is right for whom.
Person #1
Reading Habits: This person doesn't like reading on screens, and prefers printed books.
Best Books Service: Booksfree, by a long shot. It's the only one that offers physical books. 
It's a little more expensive to mail books back and forth through the mail, but the cost is worth it to someone who likes holding a book in their hand.
You could argue that Booksfree is only a glorified library, but if you have trouble getting to the library, or your library has poor selection, then Booksfree is an excellent option.
Person #2
Reading Habits: Reads widely and broadly, in genres like Romance and Sci-fi and Mysteries. Reads about one book a week.
Best Books Service: For a devout reader, Amazon's Kindle Unlimited is the way to go. No other service matches it in terms of breadth of books and the unlimited number of reading.
Over a million books is quite a lot. It's doubtful anyone will run out of interesting books to read, no matter how fast of a speed reader you are.
Person #3
Reading Habits: Reads a few books a month and maybe a single audiobook. Some months doesn't read at all. Wants a cheaper service and doesn't mind reading on a screen.
Best Books Service: Choose Scribd. They have a wonderful interface and a huge selection of books that are crowdpleasers. Plus, they're a dollar cheaper than Amazon.
If you don't really need unlimited books because you only read a few a month, then Scribd might be a better choice than Amazon.
Person #4
Reading Habits: Lives outside the United States and likes to read in multiple languages.
Best Books Service: Bookmate. It's based in London and offers access to 12 different languages. 
Plus, with 650,000 books, I don't think you'll miss the extra half million books that other book services offer.
If you're really on a tight budget, you can use the $4.99 option and still have plenty to read.
Two Defunct "Netflix for Books" Companies:
Oyster
Oyster was one of the most well-known attempts at a "Netflix for Books"; it was also the most high-profile failure.
Oyster was a relatively new upstart compared to many of the other players in the same market. It charged a monthly fee of $9.99 for access to over one million e-books. They operated on a model that paid the publishers a retail cut for e-books read by their subscribers.
The issue quickly became that their readers simply read too much: the monthly fee they received wasn't enough to cover the consumption of their readers. This seriously called into question the sustainability of the subscription model.
Another problem Oyster faced which was less their fault than circumstance was that the market already was saturated when they started in 2013. Despite coverage from multiple news sources and being praised they weren't able to survive in the market, and shut down after only two years.
Entitle
Entitle was a less well-known company offering a Netflix of books service (an e-book subscription service).
Their plan was to allow members to read:
$9.99 for 2 books a month

$14.99 for 3 books a month

$19.99 for 4 books a month
The deal was actually worse than most of the other companies and they offered very little that made them unique. Entitle was far too small to hold its own in as an e-book subscription service company and failed to carve out a niche.
They faced a problem similar to Oyster's, but to a greater degree. They didn't have the backing of the media and made no moves on their own to get attention. They didn't employ social media to the extent they needed to and ended up being little more than a blip on the grandscale.
Other Book Services for Readers:
Bookbub
Bookbub is what they call a "Groupon for Books." Although it is technically in a similar market, it doesn't offer e-books nor does it charge subscribers for the services it provides. It offers limited-time discounts on certain books.
Best features of Bookbub:
It sends e-mails to its subscribers whenever there is a major discount on a book in certain stores such as Amazon or Barnes & Nobles based on the reader's indicated preferences.

It introduces subscribers to books they might not have otherwise found.

It brings attention to self-published books that have no other way of getting noticed.
The way Bookbub operates is by charging publishers and authors to feature their books, providing they drop their prices.
This creates the special deals they bring to their subscribers and encourages them to buy books they may have otherwise overlooked. These featured low prices drive up sales, artificially raising the book's visibility.
Generally, this is done with books that are under performing. The hope is that when they raise the prices back to their normal levels they will have gained enough traction to continue selling.
What Will Be the Next Innovation in Books?
"Redbox for Books"
The biggest innovation in the last few years has been "Redbox for books."
Libraries have been buying machines that cost upwards of $30,000 and can print and dispense books on demand, like this one in Worthington, Ohio, and this one that dispenses free children's books.
What's funny is that book vending machines aren't old. The first one was created in 1822 (!)
What is new is the technology used to dispense the books. It used to be that a book vending machine could only dispense the amount of books it can contain. But with new computer technology, a machine could have a database containing millions of books and use a printing press inside the machine to print a book within about ten minutes.
Now the Redbox model hasn't exactly put Netflix out of business — quite the contrary — but millions of people still use Redbox to buy movies, and a Redbox for books could sell novels quite well in travel environments like subways and airports.
The biggest company that creates "Redbox for Books" is "On Demand Books," which has created the "Espresso Book Machine."
Here's a video of one in action in Powell's Books in Portland– you can see it's not exactly a vending-machine shape, but more like a printer with a huge growth off the side.
The following two tabs change content below.
Daniel Lowe is currently a student at Ramapo College, studying marketing even though writing is his true love. He freelances for a variety of publications, but his ultimate goal is to write novels. He is slightly nerdy, vaguely funny and obsessed with both reading and writing.
Latest posts by Daniel Lowe (see all)