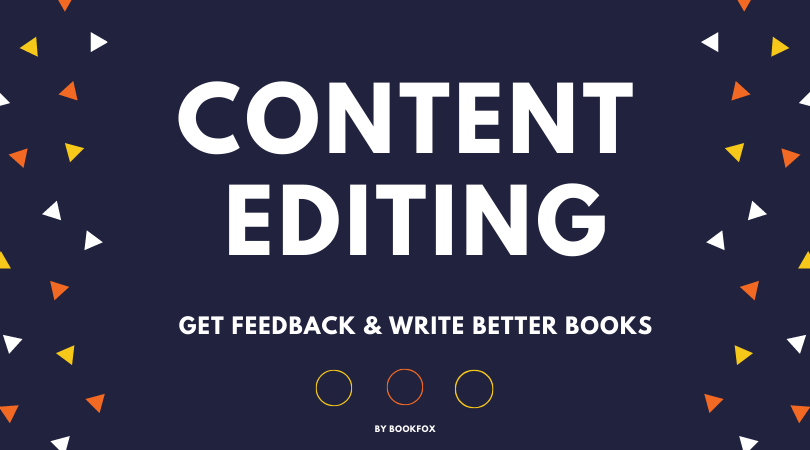 Hi, my name is Jon Davis, and I help authors write better books.
I've been working as a freelance editor for more than 15 years, edited books that went to the New York Times bestseller list, and founded an MFA program for creative writers in Santa Fe.
If you want me to give you the best feedback you've ever received on your book, please keep reading.

Yep, both indie authors and those seeking traditional publishers should get editing. Here's why:
For indie authors, content editing is essential to make sure that the book resonates with your fans. You need the best Beta reader in the world (that's what a content editor is!) to help you improve the book before it's launched, so that those early reviews come back positive.
And for traditional publishing, content editing is essential. That's because you're competing with thousands of other writers for a few slots. If your book isn't at the top of the stack, it's not going to get published.
What I do is help you improve the book so you can beat out all those other writers and score that big publishing advance, and have the prestige of being published by a traditional publisher.
My Process
| | |
| --- | --- |
| | We email about your goals for the book, your experience as an author, and see if we're a good fit. |
| |   |
| | To begin the editing, we sign a contract and I send you a Paypal invoice. |
| |   |
| | I edit your book within the time frame, reading your book up to two times, and give extensive feedback. |
| |   |
| | You ask me any questions you have about my feedback, how to revise, or how to publish, and feel confident about your manuscript. |
Are Beginners and Experienced Writers Welcome?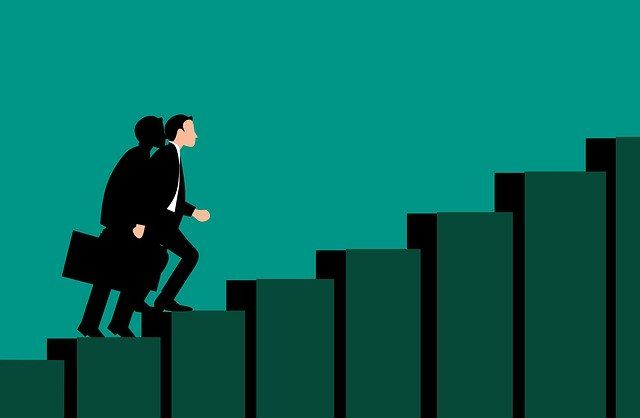 In my long experience as a teacher and editor, I have given advice across the board, both to writers creating their first book, and to authors creating their fifth. Whether you're just starting out or whether you are a seasoned professional, I will target my advice to your level of sophistication.
If you're just beginning, I'll be gentle and kind, yet give you clear steps to improve the book.
If you're an author with a few books under your belt, I'm going to use more esoteric writing terminology, level with you in terms of a firm critique, and give advanced recommendations.
In other words, wherever you are in terms of talent and complexity, I will meet you there and help you get to the next level.
Why You Should Hire Me
I've got a great track record of helping authors create their best work. I've edited:
New York Times Bestsellers

Winners of the Center for Fiction First Novel Prize

Books that have won accolades from Oprah, Time Magazine, Entertainment Weekly, and GQ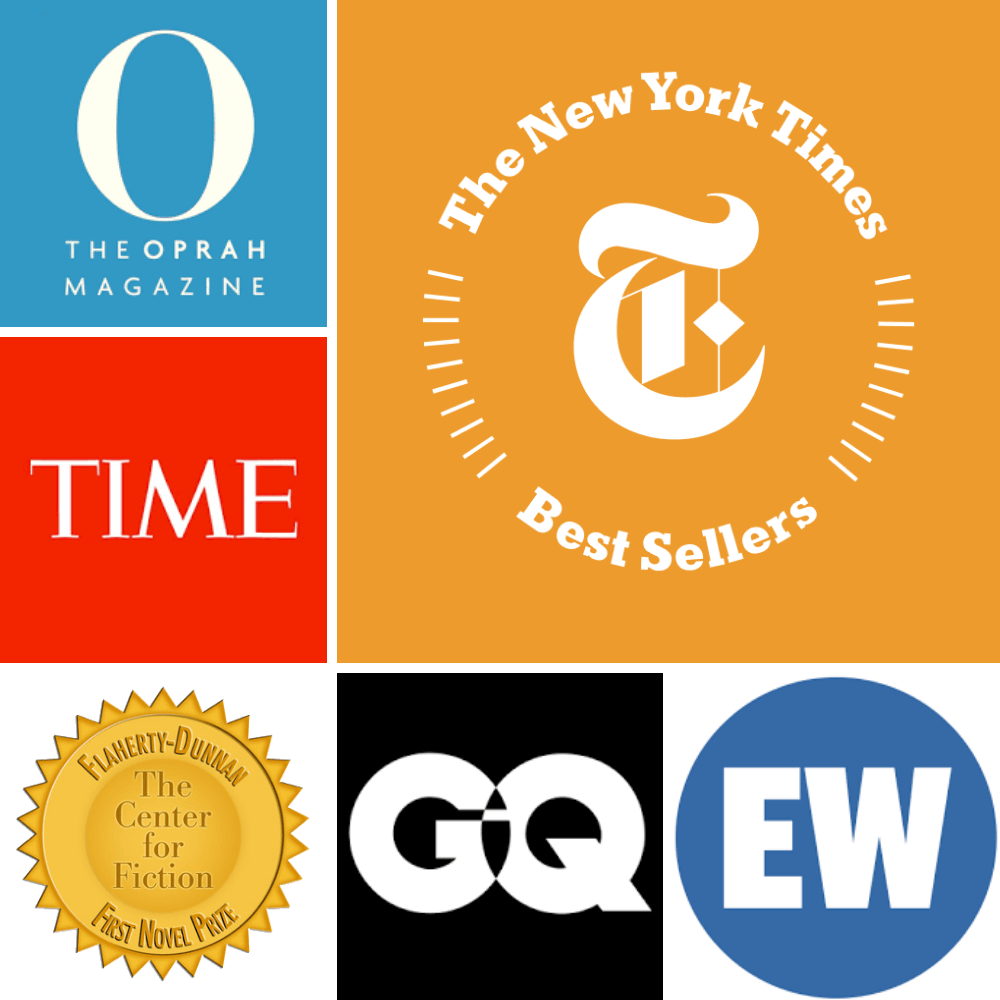 Basically, I've been doing this successfully for a long time. I give amazing feedback to my authors and they are uniformly grateful by the time our work together is done.
Many of you have been part of a writing group before and received feedback, but I'm much more detailed, precise, in-depth, and proactive about offering specific solutions. It will be the best feedback you've ever received.
More About Me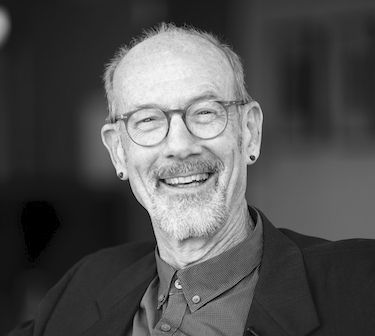 I have published five chapbooks and six full-length books. My seventh book, The Many-Body Problem, is forthcoming from Grid Books in 2020. 
I have received a Lannan Literary Award, the Lavan Prize from the Academy of American Poets, and two National Endowment for the Arts Fellowships. I taught for 23 years at the Institute of American Indian Arts before founding the IAIA low residency MFA in Creative Writing.
The students that I worked with have produced well over forty books and won numerous awards like Whiting Award and the National Book Critics Circle Award. 
Frequently Asked Questions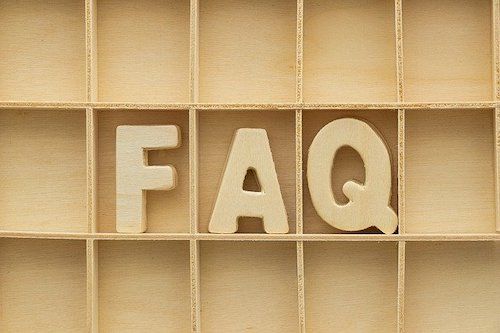 Will you read my book multiple times? 
So purchasing an editing package with me includes a single read through. But don't worry — you will be getting an enormous amount of feedback. Also, for the authors who make big revisions and want me to edit again, I give a discount.
And of course it's free to email me any questions you have about my feedback, or how to go about your revision. I want you to succeed.
Do you edit nonfiction as well as fiction?
So I focus on editing fiction and poetry. If you have a memoir, I can help you with editing, but I'm not the best fit for most nonfiction books.
Do you do copy editing as well as developmental editing?
No, I don't do copy editing. However, we have another editor here at Bookfox which specializes in copy editing, and she's fantastic. Please contact her by using that link.
Do you do ghostwriting?
No, my job is not to rewrite your book. It's to give you advice on how to revise your book. You have to do the work of revision yourself.
Do you offer a contract?
Yes, for any significant editing projects, I will offer a professional and thorough contract which we both will sign.
How fast will you edit my book?
That depends on my schedule, but most of the time I get your book back to you in a month, or at the most, 6 weeks. If I am available, I offer expedited editing for an additional fee.
Do you edit books that not the first in the series?
Yes, I will consider them on a case by case basis, but at the minimum I need synopses for the earlier books in the series.
Will you publish my book or help me find a publisher?
In some cases I can point you toward a publisher who might be a good fit, but in general that is the role of an agent. Agents connect you with publishers, while editors help you improve your book. Two completely different roles.
Can you give me advice on indie publishing?
Yes, I can answer your questions about indie publishing after we work together on your book.
Will you jump on the phone with me?
Normally, I handle everything over email. However, if you choose my highest editing package, I will do a one-hour Skype session with you.
Will you bill hourly?
No, I find that this makes authors feel uncomfortable, because they don't know the total price beforehand. I prefer to charge by the word, so you know exactly what you're getting charged before we start.
Will you also help me with my query letter or cover letter?
If you hire me for editing your book, I offer a query letter editing service for $150.
Testimonials
| | | | | |
| --- | --- | --- | --- | --- |
| "I have worked with Jon Davis for over 15 years, initially in a workshop, then in twice monthly individual sessions. Through our work my writing changed and developed, leading to the recent publication of my book, Quiet at the Edge. I highly recommend Jon as both mentor and editor. Whether you are a committed writer or someone just beginning, he will offer invaluable stimulus to creativity as well as fine-tuned awareness and direction to your work." | | | | |
| – Deborah Casillas | | | | |
| "Jon Davis was able to help me create my dark fantasy sci-fi novel, Snow Over Utopia. He was able to not only preserve the original voice and intent, but enhance its potency. He was painfully thorough and meticulous in going through each line, giving it optimum attention, truly teasing out the full potential of the manuscript." | | | | |
| – Rudolfo A. Serna | | | | |
| "Jon Davis's editing saved me months on rewrites and led me down fruitful paths I'd never have explored for my story collection "Cheyenne Madonna." His incisive cuts made the prose ring truer and more importantly made the reader think and become more immersed in the stories rather than being constantly hit over the head with explanations and exposition. Jon Davis is that rare editor who is a storyteller in his own right who can absorb your story and show you what you ought to be saying. I trust him completely with my work." | | | | |
| – Eddie Chuculate, O. Henry Prize winner, Wallace Stegner fellow, Iowa Writers Workshop graduate | | | | |
| "Jon Davis brings an incredible wealth of skills to the editorial process: he can help you hone a story and craft a line to their ultimate power. He understood where I was trying to go with my novel and helped reveal the path to fruitful completion. He's smart, kind, funny, and there to support your vision." | | | | |
| – Charlotte Gullick | | | | |

Pricing
I offer three levels of editing for writers, and all three of them offer valuable feedback. And please note these quotes are for books more than 70,000 words — please contact me for books shorter than that, and it will be a little more per word. 
The Basic Package is for writers who want feedback about the book as a whole. I don't make any marks on the manuscript, but I do write one single-spaced page for every 10,000 words. So if your book is 80,000 words, I would write a minimum of 8 single-spaced pages of feedback (and sometimes more!)
The Advanced Package includes the feedback of the Basic package, but includes light marginal notes as well. I comment on things like word choice, pacing, dialogue, and anything else I can offer that will help you improve the writing.
The Pro Package includes the feedback mentioned prior, and also includes heavy marginal notes. I use Microsoft Word's Track Changes  so you can see everything that I'm changing as well as all my comments.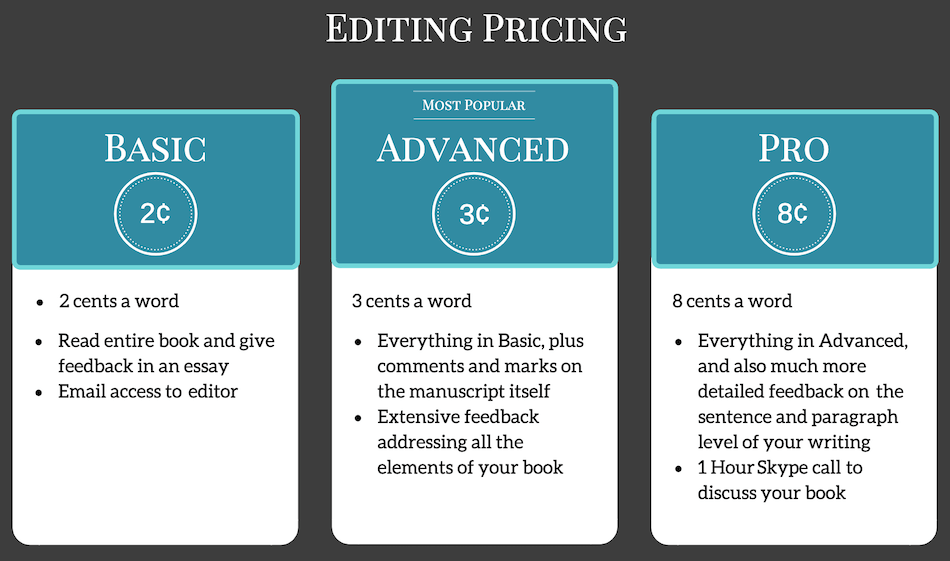 For example, here are some sample prices for a 70,000 word novel:
Pro novel editing:
$5,600
Advanced novel editing:
$2,100
Basic developmental editing:
$1,400
(For those of you who struggle with math, you multiply your word count by .02, .03, or .08.)
Contact Me
Contact me using the email below or using the form:

And if you're still reading, here is some bonus info:
Content Editing or Copy Editing?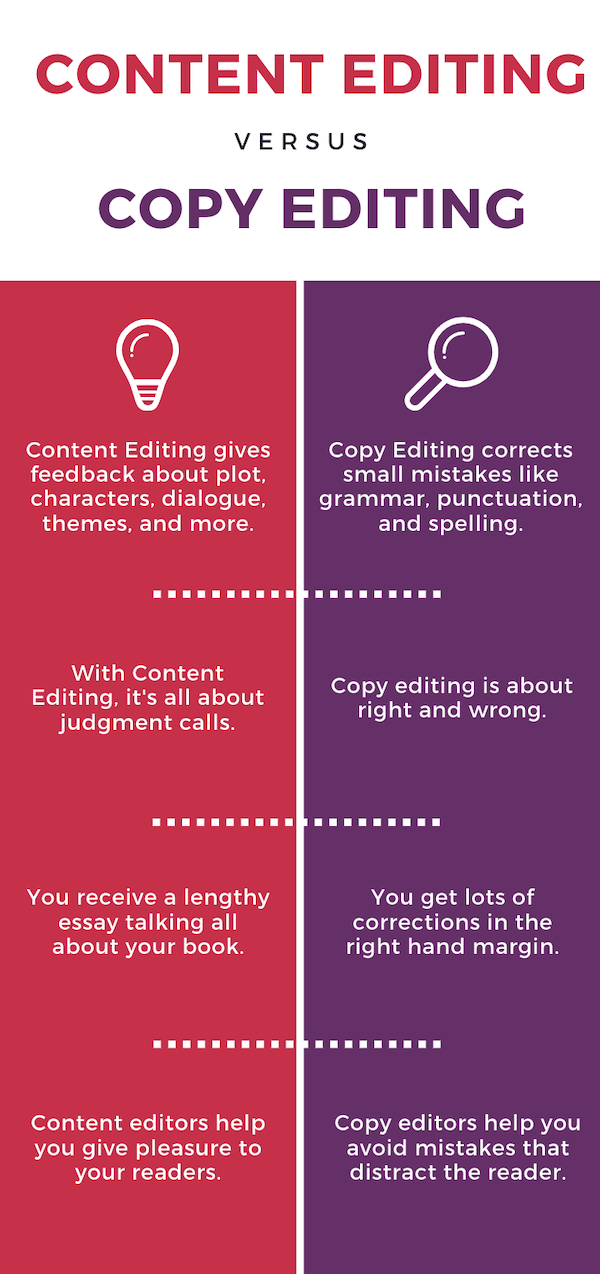 Sometimes self published or indie authors only hire a copy editor to fix the grammar and punctuation and other small details. The details are important, but if you don't have a successful story with memorable characters, no amount of copy editing will save the book.
Ultimately, a content editor is worth it because they make sure your reader loves your book. If you end up changing a chapter ending to make the reader cry, or changing a paragraph so that the reader laughs, they're going to like your book a lot more. They're going to recommend it to others. They're going to give it five stars on Amazon.
And that good word of mouth will make your book a success. Remember that the best way to have a best seller is to write a fantastic book. A copy editor helps you avoid embarrassing mistakes, but a content editor helps you contour your book into a more successful shape that entertains readers.
Plus, copy editors only make red marks all over your book. I actually talk to you at length about it. I'll give you three guesses which type of feedback is more satisfying.
How To Trust Me as Your Content Editor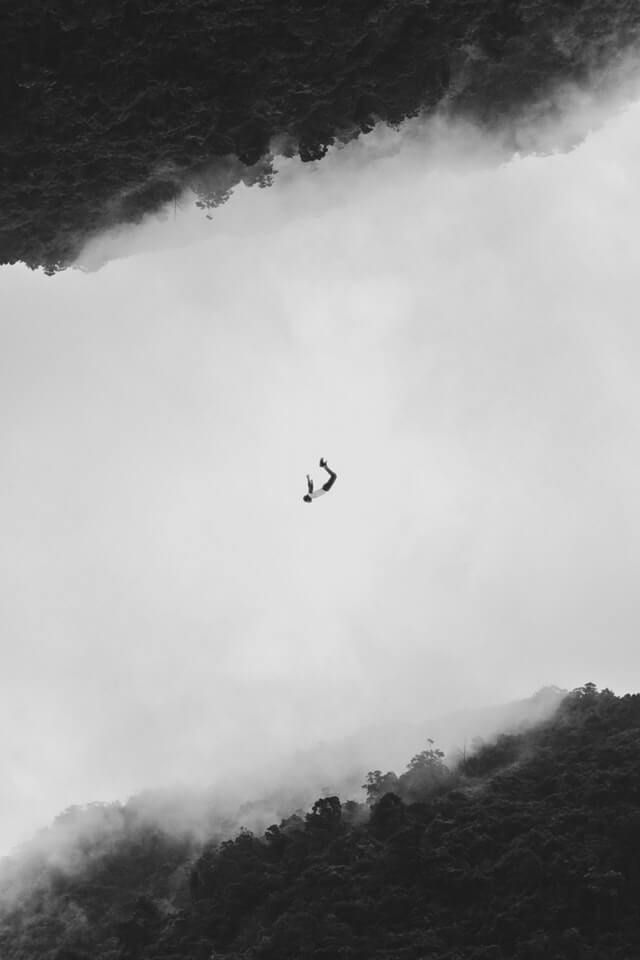 It's hard to find a content editor that you can click with. Someone who truly understands your story. And that's the great fear of an author hiring a content editor. What happens if you get all this feedback and it was a complete waste of your money and time?
But even though almost every writer comes to me with that fear, they never feel that way after I work with them.
For every single book I edit, I make sure I treat it as a precious object — because it is! I never try to impose my own vision of the story upon your book, because my sole goal is to help you tell your story better. It's always your book, and I'm just acting like a midwife.
Also, I'm not always right. That's why you should treat all my recommendations as just … recommendations. And if you get a suggestion that you don't like, please tell me why it doesn't work, and I'll suggest another method forward.
But to be honest, the writers I work with instinctively agree with 99% of what I recommend, and only every once in a while will there be something that we need to talk through. I welcome that dialogue.
Is Content Editing Worth the Money?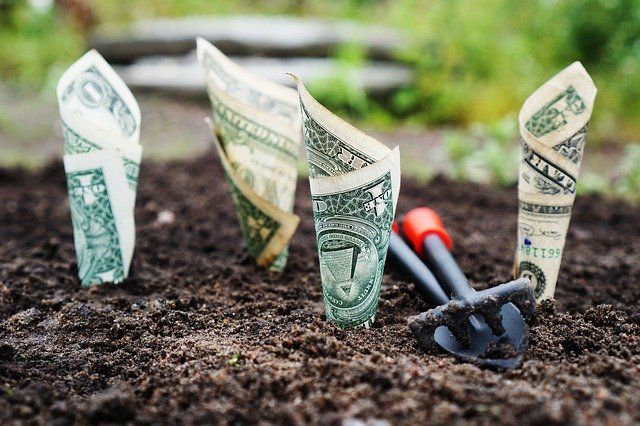 How many months have you spent writing your book? How many total hours? Go ahead, add it up.
One last question: Based on all that time, what is the value of your book to you?
If you're like me, your book feels priceless. You want to protect it, to help it along, and to find readers for it. Your book captures something essential about you, it offers a message that many readers need to hear, and you've devoted an enormous amount of time to it.
That's exactly why you should invest in an excellent content editor. You want to make this investment because the book is such an important part of your life.
Don't cheap out here at the finish line. This is the moment to really invest in yourself as a writer. Remember, a content editor not only helps you with this book, but helps you improve as a writer so your next book will be even better.
Don't Hold Back from Hiring an Editor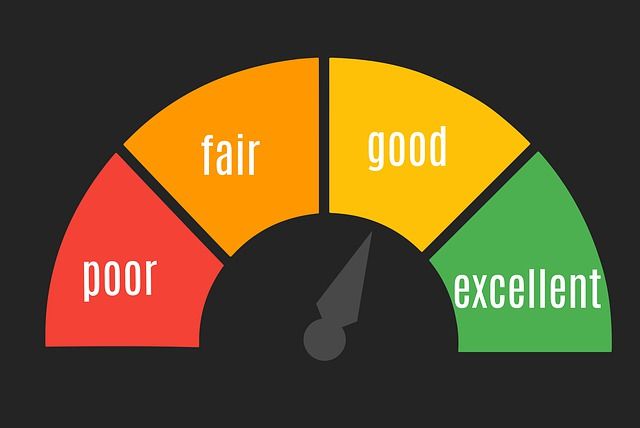 Authors tell me all the time that they're terrified to get an editor.
They're scared that the book isn't as good as they think it is. They're scared to received criticism on something they've worked so hard on.
As an author of seven books myself, I totally understand! Yes, it is frightening. It takes a lot of courage to let someone read your book, someone who is going to offer you feedback.
But that's why I choose to offer a blend of feedback: a mixture of telling you where your book is succeeding, as well as what you can improve.
It's just as valuable to know your strengths as to know what you can change. When you get my feedback you will feel both encouraged and confident in your path forward.
Thanks to these icon creators:
Write Better Books.
Receive a free copy of "DEFEAT WRITER'S BLOCK"
when you subscribe to my weekly newsletter.