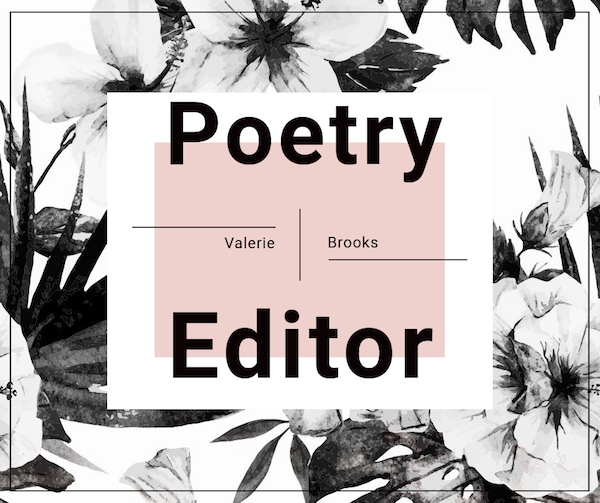 I wrote my first poem when I was seventeen. Its only redeeming qualities were that it came from the heart (my boyfriend and I had just broken up) and it had perfect rhyme. Boy did I have a lot to learn about poetry.
I have since gotten my undergraduate degree in creative writing and my master's degree in English and publishing. After years of publishing my own work, I have made a career out of helping others write and refine their own.
Poems are unique lyrical expressions in that they can focus on a single idea with laser precision. They can play with the sound and placement of words. They can even be one line long: "For sale: baby shoes, never worn." Poetry allows for freedom of expression and even untethered grammatical rules.
But there are definite and numerous ways to improve the flow, sound, and quality of your poetry, and my editing process aims at helping your poems be the absolute best they can be, whether you're simply looking to improve as a writer, put a chapbook together, self-publish, or publish traditionally.
When I edit your poetry I will look at these things, among others:
meaning

word choice

stanza usage

line breaks

rhyme (if used)

flow

meter
I will pay particular attention to anything you'd like (just let me know!). You always have the choice of whether or not to incorporate my suggestions.
About Me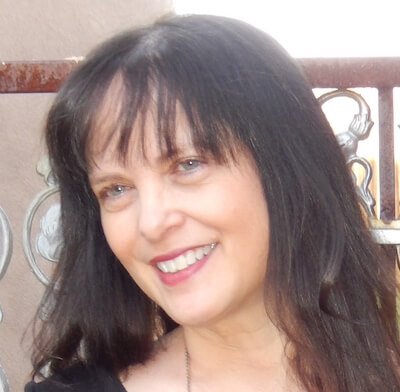 Hi, I'm Valerie Brooks.
1. I worked at a literary agency for several years. Since that time, I've moved into editing and coaching for the last 10 years. For three years I also reviewed fiction, nonfiction, and poetry for the industry leader Kirkus. 
2. I'm a writer. My poems and nonfiction have published in The Writer, Bookmarks, Delaware Today, Animal Fair, Massage Magazine, and The Santa Fean. I also have a B.A. in creative writing and an M.A. in English and publishing. I also have a Poetry Certificate from CalArts.
3. Some personal details: I belong to a book club (of course!) I subscribe to 23 magazines, and actually read them all. My favorite poet is William Blake. And I am animal fanatic, with a small menagerie of animals at home. I study American Sign Language and Vedic chanting.
3 Reasons to Work With Me

1. Your book will improve. Every author who works with me marvels at the improvements we make together. This book represents an essential part of yourself, and you will come out with a version that is as great as possible.

2. Your writing skills will improve. My goal is not just to make your poetry book better. My goal is to improve your skills as a writer. The techniques you learn from my feedback will serve you well as you continue to write in the future.

3. Your readers will love the result. Whether you're self-publishing or seeking a traditional publisher, after working with me you're going to have a book you're proud of and that intrigues, entices, and moves your readers.
Testimonials
"You have been instrumental in helping me land a publisher! I've been writing poetry since my teens, but I never imagined I'd see them in magazines and now in book form. I credit you for both of these accomplishments. You helped me improve my writing and open my mind to the nuances of poetic verse. You truly have a gift for this. I can't thank you enough!"

– Leah Rubabshi, author of A Rainbow World and The Hidden Artist

"I was a professional writer and editor for more than twenty years, so I know quality editing when I see it. And I saw it on Valerie's work on my novel. She clearly has a firm grasp of all aspects of manuscript evaluation and editing. Nothing gets past her. She will be the go-to lady on my next novel. Highly recommend."

– Frank Victoria, author of The Founders' Plot


(Winner of the Beverly Hills Book Award for political thriller)

"If fingers were thumbs, Valerie Brooks would get ten thumbs up! After having a previous, and very expensive, edit of my first book, I still found my dysfunctional relationship with the comma revealed. I was recommended to Valerie, and I couldn't have been happier. She had an eagle eye for errors and omissions, and even explained the "hows" and "whys." I highly recommend this professional, wonderful editor to anyone."

– Linda Cousine, author of Hotter Than Ever, Dead Again, Twenty-one Trees, Confessions of a Nerdy Girl

"Thank you so much for your manuscript evaluation. You did an amazing job outlining the strengths and opportunities of my work. Not only did you provide outstanding feedback and specific examples, it was obvious you really care about helping writers reach their potential. Your evaluation exceeded my expectations. Thanks again for all your help and guidance."

– Alan Hlad, author of The Long Flight Home

"Valerie understood my material immediately and was an absolute pleasure to work with. It would be impossible for me to recommend her more highly. I can't wait to do it again!"

– Marcus Bleecker
Pricing
My prices are structured around three major lengths for poetry, assuming a maximum of one poem per page:
A Submission: group of 10 pages of poems
Chapbook: up to 30 pages
Full-length poetry collections: usually about 50 pages
For additional pages, add $12 per page. Remember, this is based on a maximum of one poem per page.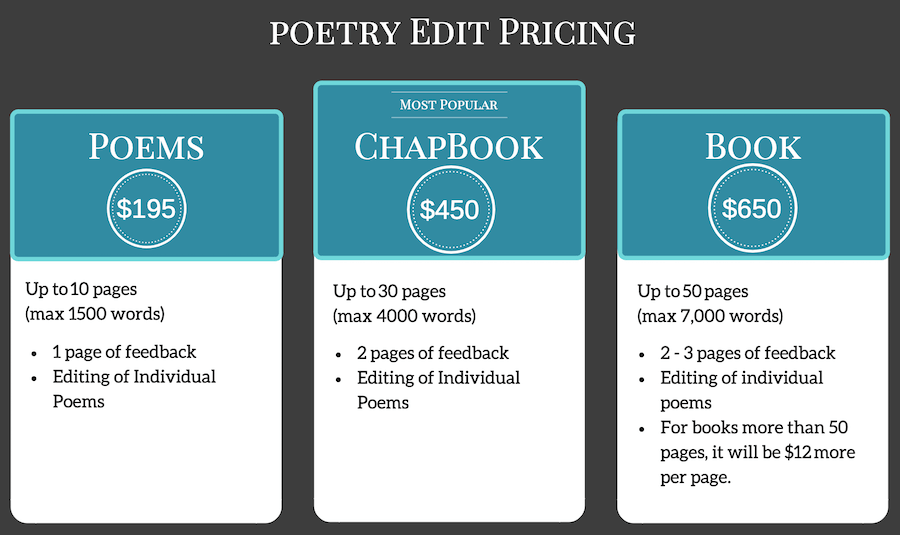 If you have an unusual length, please contact me about special prices using the form below. 
What does "editing of individual poems" mean?
When I edit a poem, I do three things:
1. I give you big picture suggestions for improvement — and then it's up to you to make (or decide not to make) the improvements.
2. I give advice on fundamental poetic techniques like content, form, meter, rhyme, and flow.
3. I also do copy editing, focusing on grammar, word choice, punctuation, formatting, and other small details. You'll see these in the right hand margin (I use Track Changes in Word).
Don't wait and become frustrated by rejections. Contact me now by using the form below.
Contact Me
Write Better Books.
Receive a free copy of "DEFEAT WRITER'S BLOCK"
when you subscribe to my weekly newsletter.