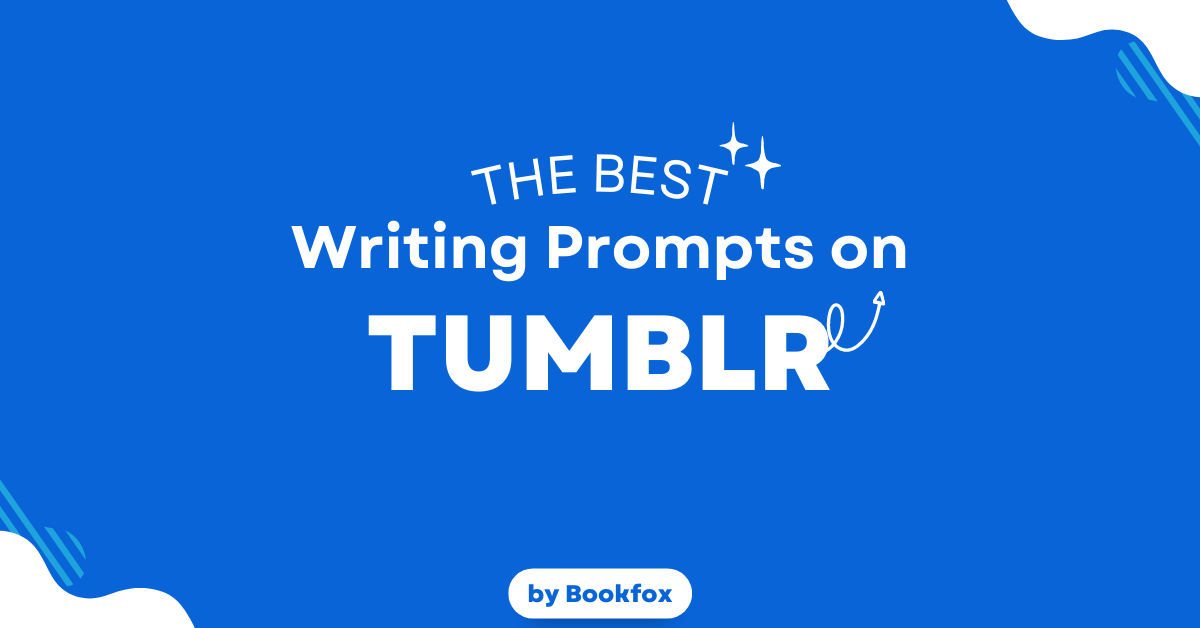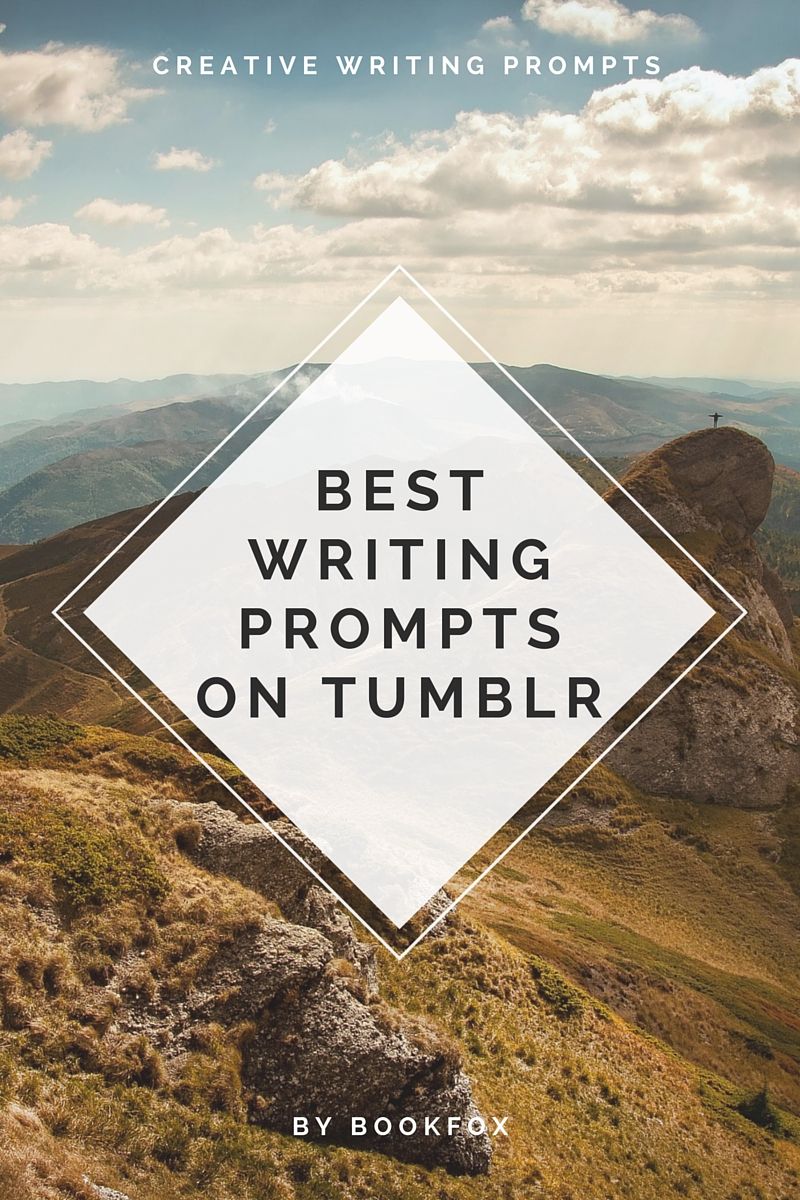 Tumblr is a blog site that is good for more than just hipster photos and crying over your favorite pop culture icons. It's also a community for writers of all genres to collaborate and share ideas.
Tumblr is a great resource for writing prompts. Writing prompts on Tumblr take a number of forms, with each Tumblr specializing in a particular form of writing prompt. Even though most of the writing prompts are geared towards short stories that can be written on the site, many of the prompts and ideas can be incorporated in fiction of any length.
No, that's not a misspelling of "writer." A person with the first name of Witter writes this Tumblr, and it gives "first line" prompts of quotes/lines. The lines can be randomly posted, or related to a category submitted by a reader.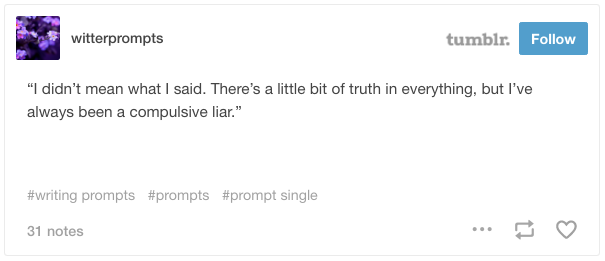 With over 2000 pages, this Tumblr specializes in "single-word prompts." It posts a new prompt of one or two words every hour, often nouns or adjectives. If you just need a little oomph to get you writing, get inspired by these very short ideas.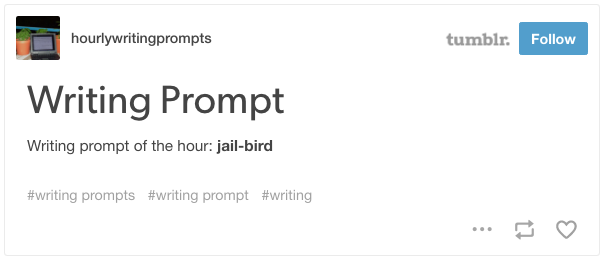 Reading a story is like watching a movie in your head, so it only makes sense to look at these picture writing prompts! They have a great variety of photos of every kind and shape, so scroll through a few until you find one that inspires you.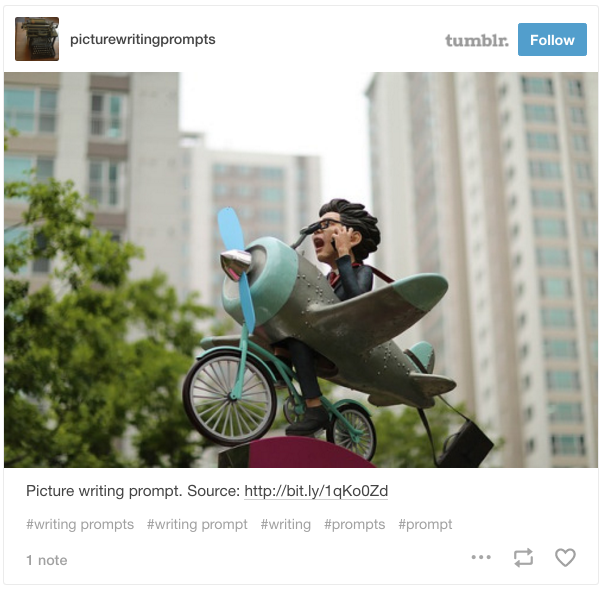 Each of these Tumblr prompts are quote prompts, usually a single sentence but sometimes two. They are different and intriguing, as the quotes clearly indicate a possible plot, character emotion, or setting.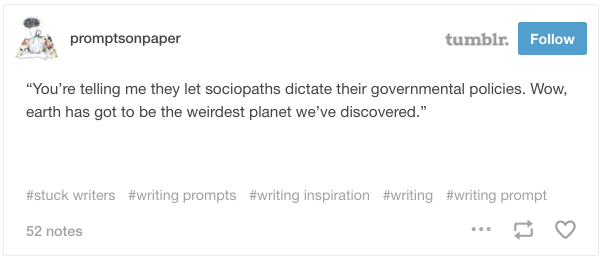 This Tumblr combines picture and word prompts. Sets of three picture prompts are posted to show either either a setting or a sequence of events. The word prompts are often themed or individual prompts based off of a submission.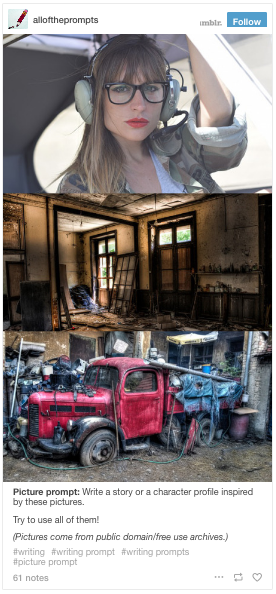 This writing prompt Tumblr gives you the ability to fill in your own characters, often referring to couples, using Person A and B in most of the posts. It's geared towards short fiction for OTPs, which stands for One True Pairing. This refers to a pop culture couple that you favor, regardless if the couple is confirmed. OTPs are the most common subjects for fiction in Tumblr.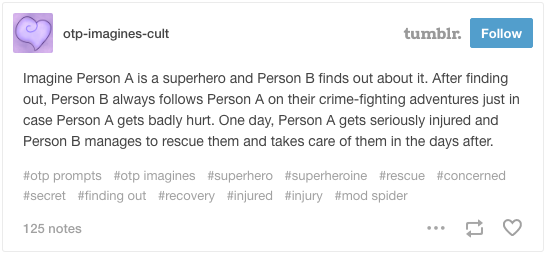 Pleasant Night Arbiter
This Tumblr is a mix up of several types of prompts. They throw in a few dialogue prompts, word prompts, and many themed AU collections, which stands for Alternative Universe. This also refers to the world of fan fiction, meaning it takes place in our everyday world as opposed to where the pop culture characters usually reside.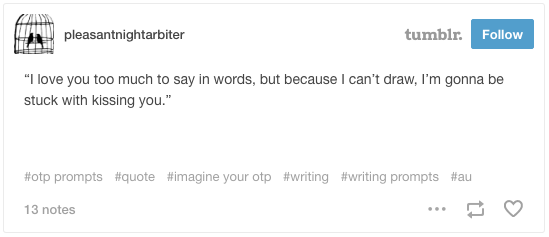 This is a helpful blog that gives you prompts based off of different fiction aspects such as the first line, the title, or character situations. It can spark something in your creative mind that can trickle down into other aspects of the story.