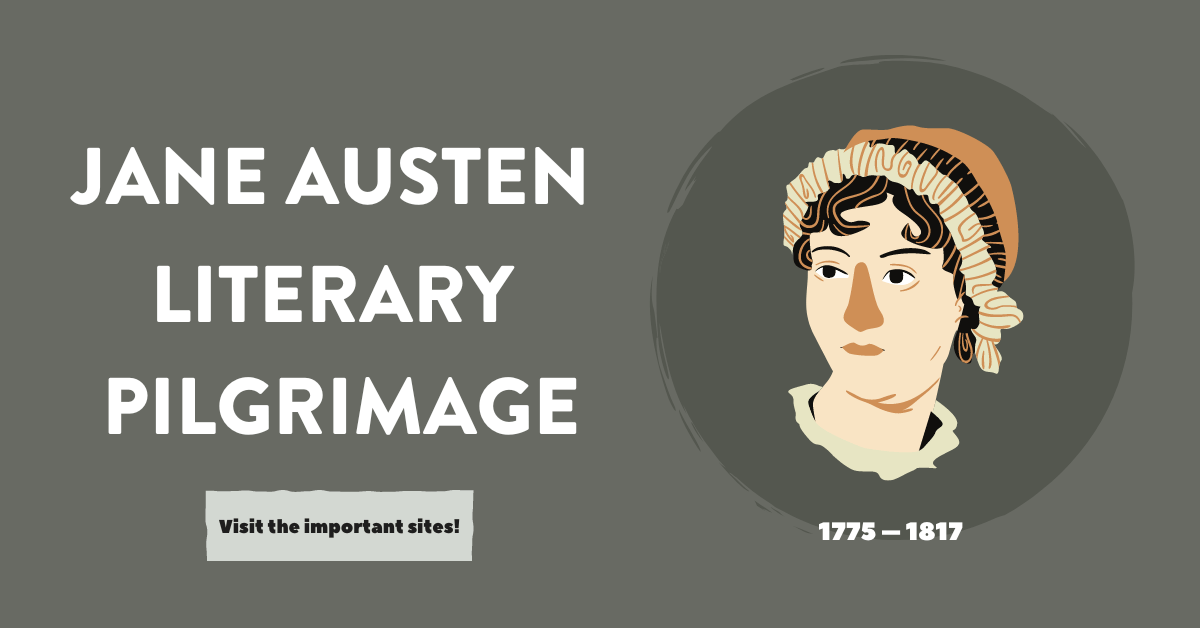 If you're a traveling bookworm, Jane Austen's England will bring the characters and settings in her famous novels to life as you follow her own life story.
One of England's greatest and most celebrated novelists, Jane Austen was born in the late 18th century and grew up in Hampshire in the early 19th century. The villages and people of Hampshire and the city of Bath in the County Somerset where she lived were the inspiration for most of the novels she wrote.
Austen is known for six major novels with plots that explore how middle-class British women at that time landed husbands in good social standing to ensure a proper place for them in society. Her novels not only defined this period in history's novel of manners but their plots and characters also turned them into timeless classics.
Begin your Jane Austen literary pilgrimage from her birthplace in Steventon, Hampshire to her final resting place at Winchester Cathedral.
Steventon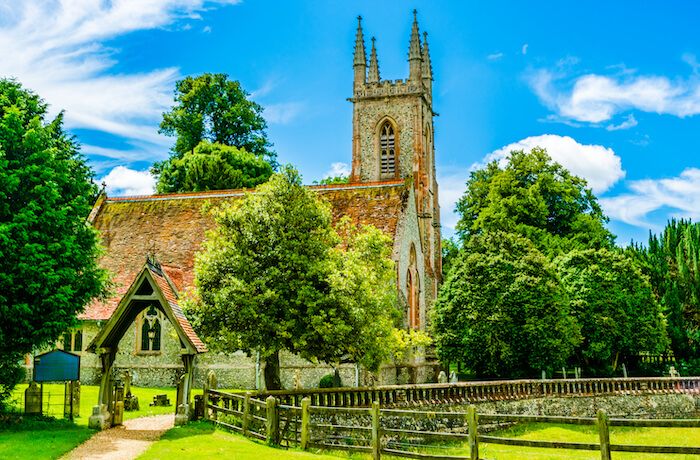 The seventh of eight children and the youngest daughter, Jane Austen was born on the 16th of December, 1775 in Steventon, Hampshire, England. George, her father, was married to Casandra Leigh and served as the vicar of the idyllic villages 12th-century church.
Jane spent the first 25 years of her life at the Old Stevenston Rectory except for a brief time away at boarding school in Reading. If you take a stroll through the countryside in Hampshire, you can easily imagine Jane's character Marianne Dashwood in Sense and Sensibility running through the countryside. And although the Old Rectory is gone, you'll see a sign marking her birthplace. The only thing left from the family's time here is a huge lime tree planted by Jane's brother James.
You can also visit the St Nicholas Church where her father conducted service and the family worshipped. A bronze plaque in Jane's memory has been placed inside the church.
Steventon is a very picturesque village, and it's easy to see how the countryside inspired the first drafts of Jane's first three novels, Pride & Prejudice, Northanger Abbey, and Sense & Sensibility. Hampshire is a splendid blend of coast, country, and city. Arts and culture festivals and events are held here throughout the year. There are numerous other locales in Hampshire Jane likely visited that you'll want to see from the old military harbor of Portsmouth to the historic buildings in Stockbridge.
Bath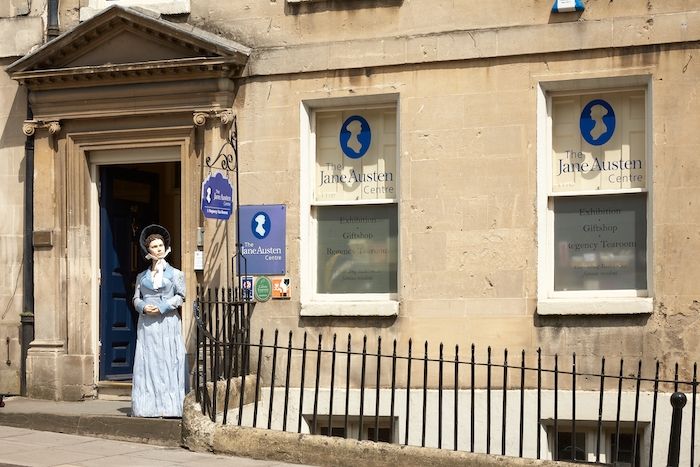 At the end of the year 1800, George Austen decided to retire from the ministry and moved the family to 4, Syndey Place in Bath, Somerset in southwest England. Jane was 25 and had spent her formative writing years collecting inspiration from the people and places of the Hampshire countryside. The interruption in Jane's life is reflected in a decreased productivity in her writing for the years she lived in Bath. Some literary scholars say she was sad and depressed about the move. Others say it was likely the opposite. Her social life was more active in Bath leaving less time for writing than while residing in the quieter countryside.
The city of Bath had been a spa since Roman times, and Bath Abbey, founded in the 7th century, became an important religious site. In her writings, Jane described the city as an "agreeable and polite place." Indeed, the gentry and the hangers-on would provide her with colorful characters for her stories. Her novels Northanger Abbey and Persuasion are mainly set in Bath. She began but didn't finish her novel The Watsons and revised but didn't finish her novel, Susan.
Jane received her only known marriage proposal while living in Bath. The proposal came from Harris Bigg-Wither, a plain-looking man who was not very outspoken and a stutterer. But he was heir to extensive family estates in Hampshire and would be able to provide Jane's middle-class family a more desirable lifestyle. She accepted the proposal but withdrew it the next morning after having second thoughts.
A fascinating and beautiful place to explore, Bath is a UNESCO World Heritage Site today, and the city hasn't overlooked paying homage to its most famous literary citizen from the past. Located in a Georgian townhouse near the place Jane resided, Visit Bath offers a free audio walking tour that highlights her time in the city and the influence it had on her works. And every September the city hosts a 10-day Jane Austin festival.
For a snapshot of life in Regency times and to learn more about what inspired Jane's timeless novels, visit the Jane Austin Centre in Bath. Your experience will begin with a welcome talk from a knowledgeable staff member. Then you're free to roam the center to explore the fashion and society that inspired Jane's novels. Feel as if you have walked into the setting of Pride and Prejudice by dressing up in Regency costumes including dresses, shawls, bonnets, and top hats. A waxwork in the center creates a lifelike portrayal of what the famous novelist must have looked like. It was created by a team that included the sculptor Mark Richards and the forensic artist Melissa Dring. Taking three years to complete, the wax figure is based on a sketch by Jane's older sister Casandra and eyewitness descriptions.
When you've had your fill of All Things Austen, treat yourself to afternoon tea upstairs in The Regency Tea Room.
Southhampton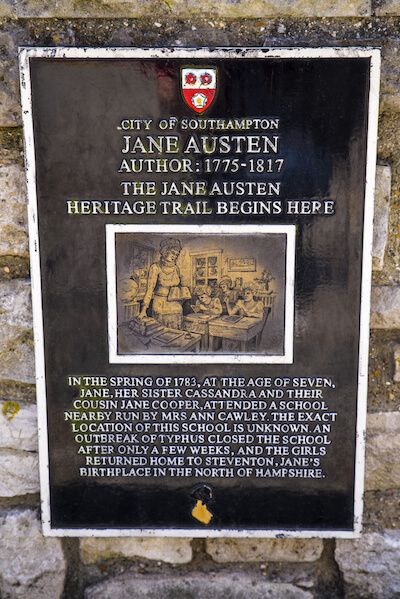 The Austen family resided in Bath until 1806. Sadly, Jane's father died unexpectedly in 1805. Her novel, The Watsons would go unfinished. Literary experts believe it was because the story premise centered around a poor and invalid clergyman and his four unmarried daughters. The subject matter closely resembled her own life and it became too close for comfort.
Jame moved with her mother and sister Cassandra to the naval port city of Southhampton where they lived from 1806 to 1809. City life proved challenging for Jane after growing up in Hampshire's countryside. She spent her time walking along Southampton's city walls where the garden of their house backed into the medieval walls, taking trips to Netlley Abbey and the River Itchen, and to Portsmouth where two of her brothers were stationed with the Royal Navy.
The house in Southhampton is no longer standing, but you can visit its locations and The Dolphin Hotel on High Street, a coaching inn at the time and a place where Jane attended society dances. The city's Jane Austen Heritage Trail includes these and other key locations related to Jane's life and writing.
The move to Southhampton, and later Chawton energized Janes's writing and she picked up her quill once more.
Chawton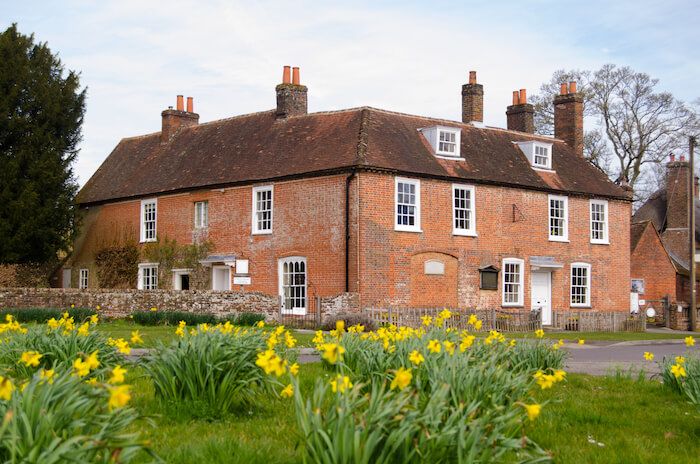 George Austen's untimely death left Cassandra Leigh and her two daughters in a financial bind. In 2009, they moved to the beautiful village of Chawton where Jane's brother Edward owned Chawton House. Edward offered to let his mother and sisters live in the stately home rent-free. Here Jane would live and write until her death in 1817.
With the exception of Steventon where she grew up, Jane was more at peace in Chawton than anywhere else. Her writing became prolific again and she revised and wrote her most famous novels including the revised manuscripts for Pride & Prejudice, Sense & Sensibility, Northanger Abbey, Emma, Mansfield Park, and Persuasion. Four of the novels were published while Jane lived at Chawton House. The rest were published posthumously.
It's important to note that at the time, women authors were published anonymously. It was considered unfeminine and undesirable for proper women to be seen as anything other than ladies of society.
Sadly, Chawton House would be Jane's last home until her death in 1817. She grew ill as early as 1816 but ignored the warning signs. She made light of her condition and called it "bile" or rheumatism. She continued to work in spite of her illness, working on the ending of The Elliots and The Brothers which was later published by the title Sanditon in 1925. Diana Parker, Sanditon's heroine is described as an "energetic invalid." She stopped working on this last novel after completing 12 chapters and laid down her pen on March 18, 1817.
Today, Chawton House is the Jane Austen's House Museum and is an evocative place for Jane Austin fans to explore. The sight of her writing table by the sunny dining room window is spine-tingling. It was in this spot that Jane wrote letters and worked on her novels while watching life in the village streets pass by.
Visitors can stroll the picturesque gardens and explore the library with its extensive collection of women's writings from between 1600 and 1830 from novelists and travel writers to activities and philosophers. It's the perfect place to learn about Jane's life and her writings. Author pilgrims can truly follow in Jane Austin's footsteps.
The house, library, and gardens are open seven days a week from March through December. There's a Gift Shop with unique gifts and books. Enjoy lunch or tea with a slice of cake in the Old Kitchen Tea Room or have ice cream on the lawn. Play old-fashioned garden games, write with a quill pen, and play dress-up in Regency costumes.
Winchester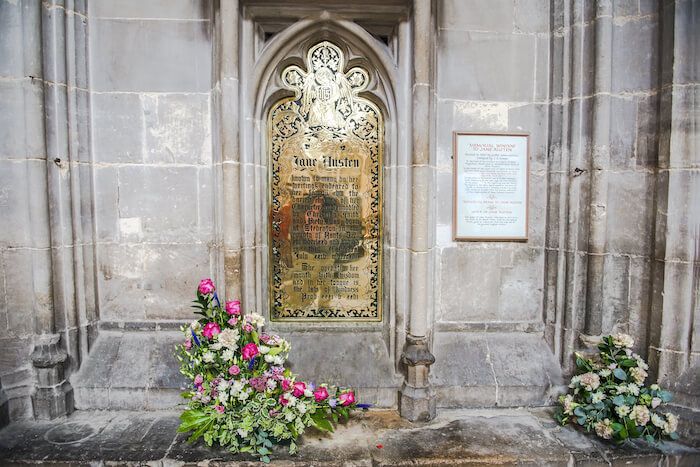 In 1817, Jane became so ill she moved with her sister Cassandra to a house on College Street in Winchester to be near her doctor. She reportedly had Addison's Disease and passed away on July 18th, 1817 at the age of 41. She was laid to rest a few days later in Winchester Cathedral. Visitors can pay their respect at her tomb in the north aisle of the cathedral. The tomb's inscription doesn't reference her literary talent but a brass tablet added later states that she was "known to many by her writings".
The Cathedral itself is an awe-inspiring place to visit. The majestic building is filled with centuries of English heritage, works of art, and priceless treasures and has played host to many Kings and Queens. Meanwhile, a small tablet in her honor was placed in the Poet's Corner of Westminster Abbey in 1967 by the Jane Austen Society.
Tours at Winchester that include Jane Austen's grave are given Monday through Saturday from 10:00 am to 3:30 pm.
Jane Austen's London and Beyond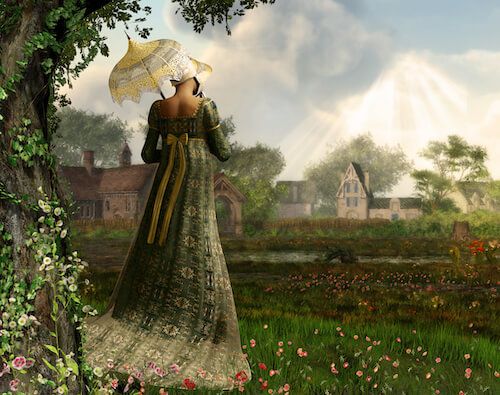 During the course of her novels, many of Jane's characters spent time in London. In Sense & Sensibility, the Dashwood sisters stayed with friends in the city to attend fashionable parties and dances.
In the novel Emma, the main character's sister lived with her family in Brunswick Square in Bloomsbury, and in Mansfield Park, Mary and Henry Crawford's uncle, Admiral Crawford, lives in Mayfair on Hill Street.
The Hursts from Pride and Prejudice own a house on Grosvenor Street in Mayfair and Jane Bennet goes there to call on Caroline Bingly.
The houses are all fictional, but the Georgian architecture creates an open-air Jane Austen Museum in London.
England's Derbyshire is another cherished Jane Austen site and many of the stately homes in the village have been used as filming sites for Jane Austen movies and TV shows. It is here that the character Elizabeth Bennet and her relatives stumble upon Pemberly, Mr. Darcy's house in the novel Pride & Prejudice. In the film adaption of the book, Chatsworth House, one of the area's most famous places is used as Pemberly. Scenes were also filmed at Haddon Hall, a stately home in Derbyshire.
Jane's novel Emma is set in Surrey just south of London. The protagonist lives as a big fish in a little pond in the little village here. Although the village is fictional, it's easy to imagine the story in the village's beautiful setting.
It's easy to find your inner Emma or Mr. Darcy on a Jane Austen author pilgrimage. Hopefully, it's a journey you can make someday soon. Until then, you can enjoy her novels and the movies and TV shows based on them.
Jane would be thrilled to know you did.