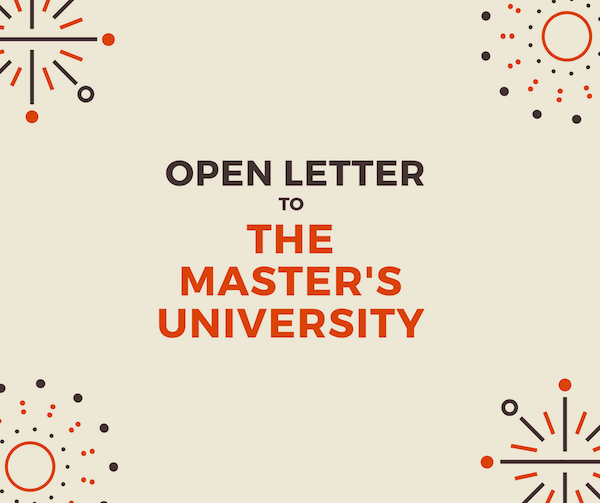 I attended The Master's College (now the Master's University) from 1997 to 2001. From 2003 to 2005 I also taught there in the English and Communication departments.
I am deeply disturbed by the news that the accreditation agency WASC has put the university on probation, and am writing this open letter to John MacArthur, the school board, and the students and alumni to demand reform.
I've worked at four other universities since working at The Master's University, and while they've had their faults, I've never seen the kind of institutional problems that I witnessed at Master's.
I will talk about my experience there, and conclude the letter with 6 steps for reform.
My Experience at Master's
The Illiberal Arts
During my time there, I spearheaded an initiative to start a student newspaper. We had a communication department, and I was specifically majoring in "Print Media," which was similar to a degree in journalism. After writing all the articles, doing all the layout, and getting bids on printing, the administration spiked the whole idea. They were too afraid of students having their own voice, and potentially contradicting the theology of the school. They wanted to keep a tight lid on every single word that rolled out to the public.
It is difficult to believe, but we had a journalism department forbidden to have a student newspaper. We had a communication department that was not allowed to communicate. It's completely at odds with the purported aims of a liberal arts school.
This anecdote perfectly illustrates the university's tendency to prioritize institutional security and control over student education. It is this desire for control and power which has created many of the other problems I discuss below.
Bullying
One year, a student in the communication department pulled a prank at graduation, and because of that prank, John MacArthur threatened to shut down the entire communication department. Threatened to take away the jobs of three professors. Because of a silly prank.
It was not an empty threat, and was made repeatedly: if the department "couldn't get control" of their own students, it didn't deserve to exist. Threatening to disband an entire department out of retaliation for one student's misbehavior is not only unethical, it's completely misguided.
The professors were also threatened in spiritual terms, implying that there must be something wrong with their spiritual health if they couldn't get their students to behave. They were also threatened in terms of their jobs: their curriculum must be wrongheaded if it created students who would dare pull a prank at graduation.
The WASC report said there was a "climate of fear, intimidation, [and] bullying." From my personal experience, that is absolutely, 100% true.
Witch Hunts
While I was teaching in the English department, a gossiper started a rumor that one part of my theology did not match up correctly with the college's standards. The higher ups, meaning John MacArthur himself and a relative in a high leadership role, bypassed the Dean of Faculty and asked the chair of my department to fire me immediately.
The Dean of Faculty was incredibly angry that he had been bypassed, and spent the next two weeks compiling a dossier on me (I saw it — it was at least an inch thick) where he interviewed everyone who had ever known me (his words). In the end, he was able to defend me to John MacArthur and the school leadership, and after forcing me mid-semester to sign a theological document that reaffirmed my adherence to this particular doctrine, I was allowed to stay and continue teaching.
But this reliance upon gossip, and drastic measures taken through unorthodox channels, make the school run more like a mafia organization than an institute of higher learning.
6 Steps for Reform
1. Hire a University President
John MacArthur, people other than you know how to run an organization. You should step aside and let them. You are at the very advanced age of 79. This is too old to attempt to run two organizations, a major church and a university. Do you want your legacy to be ruining an entire university? Humble yourself. Acknowledge your limitations.
A university deserves leadership. Refusing to collaborate with a university president is an issue of pride, and the desire to maintain power and control. Surely some administrator out there has theology that's good enough to pass your muster? Just please don't hire your son-in-law or another relative. The school has seen enough nepotism.
2. Dissolve and Reestablish Your School Board
Every single person on the school board is a yes-man. As WASC pointed out, every single man is beholden to John MacArthur through other organizational ties. They go to his church, they are on the board of Master's Seminary, they are related in a thousand different ways. It is incestuous.
It's not how you run an organization, unless your goal is to destroy the organization. There is such fear of losing control, such fear of allowing outside voices to contribute to the conversation. It's time to fire every single man from the board and start fresh.
As an alumnus, a former professor, and a believer, I demand an independent board.
This isn't a crazy request — an independent board is exactly what WASC asked for in its letter.
Also, there are 22 men on the board and not a single woman. There is one token person of color. I don't support our current culture's obsession with identity politics, but just step back and look at the optics. Even despite your theology forbidding women in positions of leadership, a university is not a church.
3. Stop Running the University like a Church
Master's University and Grace Community Church have always attacked cults, but their social environment resembles a cult. The lack of outside voices, the bullying of people inside the organization, the recruitment from within a very narrow pool of like-minded people — these are all textbook cult moves.
There is nothing cult-like about the theology, but everything on the social level mimics the workings of a cult. A University is not a church. A university deserves a different way of working. Thank God WASC is calling you to a higher standard, since it appears you've failed to do this on your own.
4. Listen to Accrediting Agencies, Rather than Merely Appeasing Them
It would be very Master's-like to ascribe this activity to the agency of the devil, or an accrediting agency "out to get them," or some kind of persecution from unbelievers, rather than using this as a chance to reform.
I was deeply disturbed by the WASC report. As a alumnus, as a former professor, and as a believer, I was deeply disappointed by how badly run and incestuous the university has become. Don't do the least amount possible in response to this report. Be above reproach. (1 Timothy 3:2, Titus 1:6). And don't forget that WASC is the God-appointed leadership over you, which you should obey (Hebrews 13:17, Romans 13:1).
5. Stop Prioritizing Theology over Competency
I know for certain that every single new hire has perfect theology. Pristine, idyllic, checkmark-every-category theology. That is the standard at Master's — never a single person in leadership, in academia, or even a janitor, shall ever deviate from the slightest theological principle.
But it appears from the WASC report that Master's hasn't valued basic competency when hiring for administrative positions. They have a list of very basic information that administrative positions should know about, and report that the administrators failed to know it.
This is hardly surprising to anyone who has been inside Master's. Theological nepotism is a real problem.
6. Create Tenured Positions for Professors
Inside this culture of fear and intimidation, professors are afraid of losing their jobs. And this mutes them. They stay quiet because they need their job.
But you need tenured faculty to help lead a university. Without tenure, you will never have any kind of professor leadership. This leads to unhealthy, top-down leadership with no feedback loops, and leads to a whole culture of head-nodding without any kind of debate.
Time for Action
Despite what I wrote above, I enjoyed my time at Master's. I learned a great deal, I cultivated wonderful friendships, and I treasure the university. I am not a Master's hater — I am only writing this out of genuine concern for a school that I have a personal stake in. This letter is truly written out of love, because I want the university to thrive.
But I refuse to stay silent. It's time for the leadership of the university to repent, humble themselves, and to reform.
If you are a current professor, I know you can't speak up out of fear of losing your job — but I thank you for the confidential emails you sent to WASC. If you are a former professor or student, it's time for you to speak up and hold our school to a higher standard.
If they don't, and if they lose their accreditation, then the university will collapse. Students will leave in droves and no new students will come.
This WASC report is a blessing — a time for reform and a time for change. Let's embrace it.
Best,
John Matthew Fox
Published on August 29th, 2018
I appreciate you reading this, and I'd love to hear your thoughts in the comments below.
UPDATE 4/2/2021
In 2018, in one of the comments below, I said: "Nothing could be worse than a President without any real authority to run the university, because they will quit in a year or two."
Unfortunately, that's exactly what has happened. Sam Horn, who was appointed President, has already stepped down after one year.
Although I cannot say for certain why Horn left, it seems probable that he wasn't given full control of the university — John MacArthur was still holding the reins. He was more of a token president to satisfy WASC.
Another possibility would be that he was pressured out immediately after the WASC accredited Master's for six more years (the accreditation happened in November 2020, while he announced his resignation in February 2021).
Whatever the reason, it's a horrible turn of events for the university. It makes it look like the "changes" were all a song and dance to momentarily appease WASC.
What Master's needs is clear and steady leadership, leadership beyond John MacArthur, and independent leadership with real power rather than token power.
I am still calling for three things:
Find a president who can devote himself full time to the university
Get an independent board
Establish tenure so that you have bottom up leadership rather than top down.
But Master's has still failed to move on any one of those three.