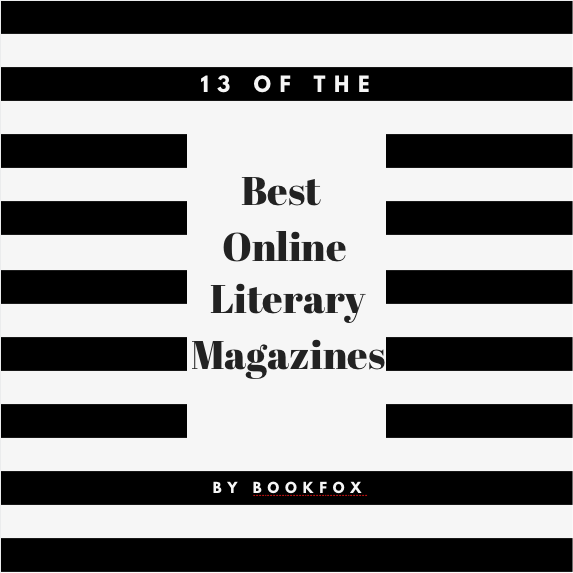 As literary magazines continue to move from print to online, it's important to separate the chaff from the wheat. This list attempts to do that.
Below are the online literary magazines that attracted my attention, boast the best names, have the most accomplished stories, showcase the work in outstanding design, and have the best chance of enduring.
It's that last one which is the hardest to judge and the hardest to accomplish.
I first wrote this list back in 2008, and the field has changed so dramatically that five of the twelve I originally named have closed, and I'm only including three magazines from the original list. That's the nature of online literary magazines, though. It's a quick-moving field. Fortunes soar and plunge. Funding splashes in and dries up. Editors have time and then they have … children.
If you'd like help with your short story, I offer an editing service that will take your short story to the next level.

From copy-editing to character advice, I give detailed feedback on what's working and what needs to be improved in your story.
If you're interested in figuring out what online literary magazines are good, I'd recommend you to pay attention to the Storysouth Million Writers Award.
A team of editors nominates a number of short stories originally published on the web, which are added to by journal editors, which get whittled down to a field of ten, and then it's a popularity contest, with the general public voting on their three favorite. But the top ten list will give you a great idea of what journals are publishing excellent material.
Also, please check out a separate list: 30 Small But Awesome Literary magazines.
Best Online Literary Magazines:
| | | |
| --- | --- | --- |
| | | Recently Annalemma serialized a novel excerpt by Joe Meno of Hairstyles of the Damned fame and The Great Perhaps. They've also featured Matt Bell, Jim Ruland, Patrick deWitt, Salvatore Pane, Aaron Burch and Ben Loory, big names all of them. They have artwork to accompany each piece, and a playful approach accompanied by an international outlook. |
| | | Hobart has one of the most prolific publishing schedules among literary magazines, publishing fiction, nonfiction, poems and comics on a daily basis. They have a great focus on pop-culture matters, especially their essays, and are less literary than smart populism. |
| | | Guernica recently celebrated their 10th anniversary, but in the last two years they've grown exponentially. They have a strong political bent, and have features as well as the Guernica Daily. The interviews that they conduct frequently are excellent. |
| | | Work that "melts faces and rocks waffles." Each week the writer published in Fwriction chooses a song to accompany their fiction, which creates quite an amazing playlist. |
| | | Quarterly West participates in the AWP Intro Journals Project, which publishes the best writing from students enrolled in AWP member programs. They aren't afraid of lengthy fiction, which can be rarity among online magazines, and also have a novella contest. |
| | | Redivider is a plucky literary magazine out of Emerson College with a website chock full of interesting and useful stuff like fun art and contributor spotlights and a blog. They biannually publish about six stories, the same amount of nonfiction, and poetry. The pace of publication tends to be more along the lines of a print journal rather than the fast twitch speed of online, but the editorial oversight (the masthead is as long as my arm) is a good sign of how hard they're working on it. |
| | | Despite some of the most abysmal response rates to submitters (Duotrope used to rank them among the worst offenders for taking more than year), Blackbird publishes really high quality fiction from established names. |
| | | Despite the minimalist website (following the early McSweeney's style), Eclectica publishes marvelous fiction. It's also not as eclectic as the name would suggest: there's quite a strong editorial taste running throughout the pieces. As for pedigree, Eclectica was the only journal to be named twice in the top ten of the latest Storysouth Million Writers Award, and tied for the most nominations on the longlist (five, along with Tor.com). |
| | | Home of the Raymond Carver Short Story contest, and with a name inspired by the minimalist master himself, the journal likes the laconic, stripped-down prose that falls under the Carver umbrella. They also won the 2014 Million Writers Award, and have received special mentions by the Pushcart prize. |
| | | I love the concept of Five Chapters — serializing each story across the five weekdays, Monday to Friday. They started a publishing arm as well, showcasing short story collections like Jess Row's "Nobody Ever Gets Lost." |
| | | AGNI used to limit their fiction to under 4,000 words, but they've lifted that restriction and started to print lengthier fiction. With such a print magazine pedigree, their online presence was grandfathered into greatness, and the bi-weekly fiction and poetry has consistently delivered. They also pay, which is wonderful. |
| | | Pank is the brainchild of Roxane Gay, who has rocketed to fame the last two years with Bad Feminist and An Untamed State. They also have a publishing arm, Tiny Hardcore Press. Like several of the magazines here, they publish both an online and print version. The flavor of the stories tends toward the brutally honest, with experimental prose and form. |
| | | Taking its name from the Samuel Beckett quote, "Ever tried. Ever failed. No matter. Try again. Fail again. Fail better," Failbetter showcases a variety of fiction, poetry and art, some of which you can get through their monthly newsletter. |