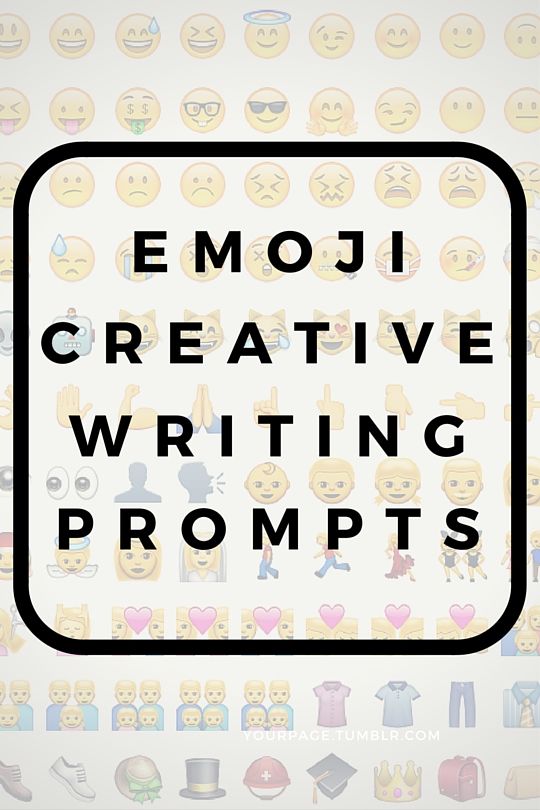 I hope these 37 creative writing prompt pictures of emojis either make you laugh or write.
Preferably both.
They're meant to be suggestive, not to sketch out the entire story. Some of them just have a premise, while others suggest a possible ending. Feel free to change whatever you need to in your story to make them work. After all, they're meant as inspiration, not as a blueprint.
I would suggest trying to start in the middle, en media res, as they say, and write as quickly as you can. I meant these writing prompt pictures mostly as inspiration for short stories, but if you feel these emojis could inspire a novel, go for it. I just expect to be mentioned in the Acknowledgements. Oh, and receive a 15% cut. ?
One thing every picture of emojis have: conflict. But it's difficult to add characterization. Some, like the gay bodybuilder, the perverted old man, and the Jewish skier, I've managed to hint at identity, but with emojis you can't do much more than that. So character development is on you, the writer! Please use your imagination.
If anyone would like to see more examples of writing prompt pictures for emojis, please let me know in the comments and I'll try to make a few more.
Or if you just want to mock me for creating something so ridiculous, that's okay too. This isn't exactly high literary art. But it's fun, so you pretentious folks can stuff it.
Those of you seeking visual creative prompts, or prompts based on pictures, should stop right here. These are much better than creating a story off a single photograph. Images can give a hint at a story, but emojis can give you a more complete narrative, with multiple characters, scenes, and objects. These are the ultimate writing prompt pictures.
One note: these pictures for writing prompts are definitely for teens and adults. I wouldn't recommend having kids write about sex tapes, radioactive disasters, or magicians committing suicide.