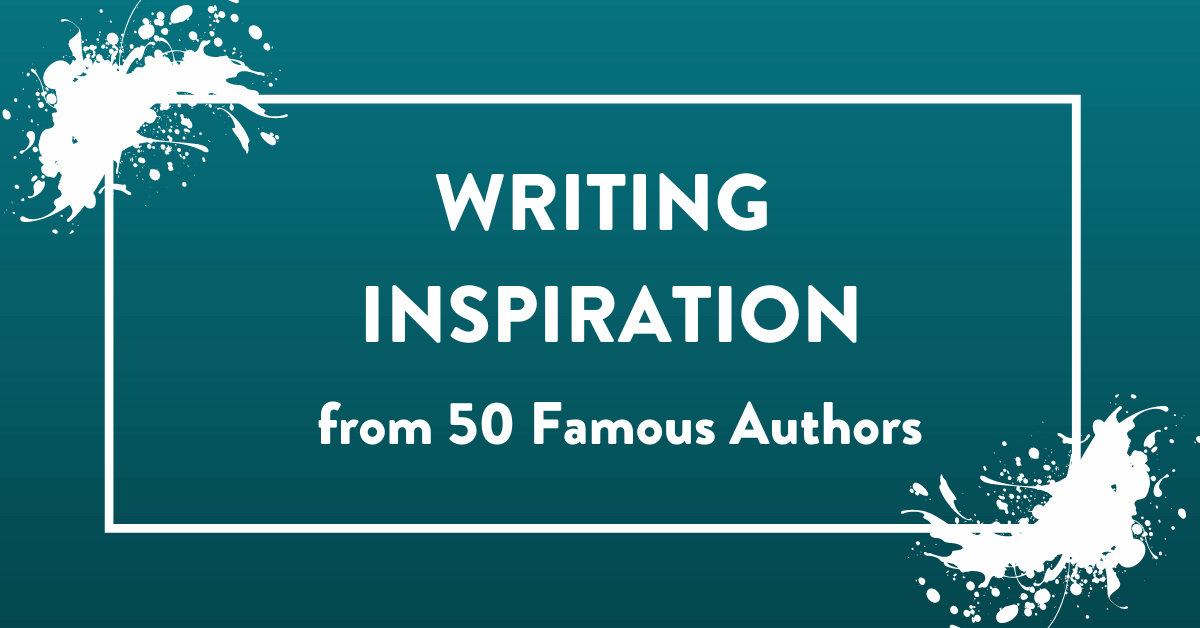 What if writers could perform a magic trick to gain inspiration?
They might not be magic tricks, but many of the writers on this list have tried-and-true techniques.
This post lets you in on the secrets of how professional writers manufacture inspiration (hint: it's not just reading and taking a long walk).
When the gears of your brain get stuck, refer to this list and pick your 3 favorite techniques. Try them and leave a note in the comments about which one worked best for you.
50 Ways Famous Authors Get Writing Inspiration
1. Haruki Murakami
Inspirational Activity: Get into a strict routine and exercise
When he's writing a novel, Haruki Murakami gets up every morning at 4 am, works for five or six hours, runs 10 kilometers or swims 1500 meters (or both), reads for the rest of the day, and then goes to bed promptly at 9 pm. He holds this routine for six months to a year, using this repetition as mesmerism to stay inspired. ("I mesmerize myself to reach a deeper state of mind.")
2. RansomRiggs

Inspirational Activity: Start a collection
Ransom Riggs first started collecting old photographs as a kid because he loved photography, but he couldn't afford prints of his own. Soon, he noticed a pattern in the photos he was collecting ("Edward Gorey-esque Victorian creepiness," he calls it) which sparked an idea for a book (not necessarily fiction) about the photographs. His editor at the time suggested he make it fiction (which he had never written before), and thus was born Miss Peregrine's Home for Peculiar Children.
3. Daniel Handler
Inspirational Activity: Don't overlook the ordinary
Daniel Handler gets most of his ideas, he says, by noticing everyday things and considering them in a different way. He says, "I'll have some idea or see something or an event will strike me in a certain way. I'll string it along immediately and think of where it could lead and where it could go. I think of a story."
4. James Salter
Inspirational Activity: Travel
During his tour with the army air force in WWII, James Salter kept a notebook before he ever knew he wanted to be a writer. Later, he revisited it to write his first book, The Hunters.
Of course, you don't have to join the military to get inspiration for writing, and now that he has retired from active duty, Salter travels frequently and uses the way it helps him "[look] at life in a different way" to get inspiration. "There is no situation like the open road," he says, "and seeing things completely afresh."
5. Marilynne Robinson
Inspirational Activity: Keep a running list of figurative language
Marilynne Robinson's inspiration for Housekeeping came from a series of metaphors she randomly wrote during her Ph.D. After her dissertation, she "read through the stack of metaphors and they converged in a way I hadn't expected."
Inspirational Activity: Work with a different medium for a while, then return to writing
Alternative: Read something you hate
After Crush, his first book of poetry, Richard Siken felt like he "had nothing left to say," so he painted for a while and then wrote about painting (first about himself painting, then about other paintings), which inspired his second book, War of the Foxes. Also, when he feels "disengaged," he reads not only works that he loves, but also those he doesn't: "When I read work I hate, I get motivated to make something in opposition to it."
7. Anne Carson
Inspirational Activity: Write while you're making art with a different medium
Instead of writing about drawing after the fact, Anne Carson's book Short Talks came about because she wrote while drawing; the titles of her drawings "got longer and longer," until they became more the focal point of the piece rather than the actual drawing, so she used them as inspiration for a book of, well, short talks on various subjects.
Inspirational Activity: Talk to people
This one might be a little obvious, but take it one step farther: Pay close attention to your conversations, even remembering specific things the other person said. Cormac McCarthy used specific conversations with his son as inspiration for The Road. In fact, some dialogue in the book is word-for-word what his son and he said ("Papa, what would you do if I died?" / "I'd want to die, too").
9. Tobias Wolff
Inspirational Activity: Take notes about your childhood
Tobias Wolff had no plans to write a memoir before starting This Boy's Life, but he kept so many notes about his childhood, moving around with his mother, that eventually the notes became an idea and that idea "chose" him, all he had to do was write it.
10. Denis Johnson

Inspirational Activity: Take notes about random things
The first step of Denis Johnson's writing process is to take scattered notes with only the intention of taking notes. Later, he'll revisit them with the intention of writing a book, as he did before writing Tree of Smoke (2007). The idea for that book came to him (he has no idea why) from reading over those random notes, some even as far back as 1982.
11. Chuck Palahniuk
Inspirational Activity: Write yourself out of real-life issues
Chuck Palahniuk writes about more shocking stuff than many people will ever experience; this comes from a need to turn awful personal events into less awful, less personal things. Basically, Palahniuk says he channels "dreadful, horrible things in [his] life that [he] cannot resolve" into writing.

12. Michael Chabon

Inspirational Activity: Throw away your book and start again
Michael Chabon dropped 4 and a half years and 600 pages of writing because he became frustrated with it, starting afresh for what would become his second book, Wonder Boys. Not all of that time and energy was wasted, however, because he used his life (his fears of not being good enough for a next novel, exasperation at scrapping so much work) as inspiration for the main character of Wonder Boys, which was originally intended to be his "autobiographical brain map."
13. J. M. Ledgard
Inspirational Activity: Get ideas from your day job
J. M. Ledgard's first novel was inspired by a 1975 historical event in which 49 giraffes in Communist Czechoslovakia were slaughtered; he learned about this while he was working in Prague as a foreign correspondent for the Economist. After getting the idea, he used his correspondence with intelligence agents and other people he met via the Economist (oceanographers, mathematicians) to get their perspectives on life and turned that information into characters.
14. Lauren Groff
Inspirational Activity: Return to something you love
For Lauren Groff, "the most important element of writing is the selection of the subject matter." In writing, she had to find "a topic that was dear enough to me that I would do the work and spend the time that's necessary to get to the end of a final draft," which is how she decided to write a love letter to her hometown of Cooperstown, NY in the form of a novel called The Monsters of Templeton.
When the idea came to Groff, she was lonely, living in CA, and missing her hometown. Thus, she decided to channel that longing into writing: "The book was born out of homesickness and a desire to create a loving, warm world around me."
15. Nicholson Baker

Inspirational Activity: Set deadlines
Nicholson Baker set a mental deadline for himself to finish writing a novel: Age 30. When he didn't meet this goal, he became inspired to write The Mezzanine by quitting his job and spending every day writing "as hard as I've ever written" for 6 months.
16. Rachel Kushner
Inspirational Activity: Engage in the world
Rachel Kushner takes a different look at writing than most: She doesn't believe inspiration to be "locked up" inside a writer and in need of "the right 'serious' (brooding) moment to get released." Instead, she says you must take a big look at the world and recognize that in so many ways, it speaks to you daily. The way to come about this, she argues, isn't always solitude—"even if you're alone when it happens."
17. Paul Rome
Inspirational Activity: Move somewhere new
After high school, Paul Rome moved to New York City, which he says "[awakened] my senses" and "[stirred] up all these feelings that were inside of me." Then, he projected himself onto his character for We All Sleep in the Same Room because of his anxieties about growing up and living in New York after graduating NYU.
18. Ann Patchett
Inspirational Activity: Use the process of elimination
While thinking of new ideas, Ann Patchett, instead of looking for "good" inspiration and overlooking the "bad," considers everything and then weeds out what she can't use. She allegorizes this using the image of a faucet: "The only way to get clean water is to force a small ocean through the tap. Most of us are full up with bad stories, boring stories, self-indulgent stories, searing works of unendurable melodrama. We must get all of them out of our system in order to find the good stories that may or may not exist in the freshwater underneath."
19. Jose Saramago
Inspirational Activity: Ask hypothetical questions
Jose Saramago's novel Death at Intervals was inspired by the question, "What would happen if death took a holiday?" To get inspiration, he makes note of interesting questions, quotes, and people with whom he converses.
20. Herman Koch

Inspirational Activity: Do some field work
Alternative: Write drunk
When writing a novel, Herman Koch tries to get as close to his characters as possible. Once, while researching the main character of his novel Summer House with Swimming Pool (who is a doctor), he made an appointment with his own doctor specifically to make note of his presence in the office.
When in a rut, Koch takes Hemingway's famous advice: "Write drunk, edit sober." The first time Koch did this, he reread what he had written and allegedly thought "This is so good – I'm never able to write this well!" He got his idea for The Dinner, his breakthrough novel, "after having had a few beers on Christmas eve."
21. Eileen Myles
Inspirational Activity: Don't "outgrow" ideas
Alternatively: Don't write drunk
Eileen Myles says she likes the idea of "writing a poem I could have written thirty years ago" and keeping the momentum going so that inspiration, from however long ago, never truly dies. ("When you're in a collective, social situation where you're always trying to imagine how to join into the social situation and then something crosses your mind—it took me years to realize that I should just say that thing. I think writing is so similar. Writing is improvisational.") And, as the polar opposite to Herman Koch, Myles gave up drinking in part because she claims it was killing her inspiration and her writing at large.
21. Bill Clegg

Inspirational Activity: Reconsider familiar things/places
Bill Clegg's inspiration for his novel Did You Ever Have a Family came while he was writing his memoir and started taking a harder look at his hometown. He says, "I just really started looking at this place where I grew up with different eyes and I became interested in it, and during that time I felt this compulsion to write down stuff that would come to me about the place."
After that, you've just got to dive into the writing: "Then at one point, I just wrote these three words, 'she will go,' and I didn't know who she was and I didn't know where she was going. From that point forward, it just bloomed as fiction. It sprung up in the middle of writing the memoir and gathered a life of its own. I didn't name it as fiction first—I kind of backed into it."
23. Ben Lerner

Inspirational Activity: Narrate your life
When a dentist told Ben Lerner he had to have a tooth pulled immediately because it was infected, he pictured himself telling his friend about the experience—"then as I inhaled the delicious N20 I had the sensation that I was already telling Yarrow—that I'd floated away from the office back into his presence" and it became inspiration for his writing. In fact, inspiration like this appears throughout his novel 10:04. ("I'm aware of narrating certain experiences as they happen or obliterating those experiences with narrative and then those stories—not the experiences themselves—might become material for art.")
24. Colson Whitehead
Inspirational Activity: Watch movies
But don't write exact movies into novels. Colson Whitehead, for his book Zone One, watched a ton of zombie movies and decided he wanted to translate the mostly-thought-of-as-a-film-genre of post-apocalyptic zombie horror into more writing than just a script.
25. B. J. Novak
Inspirational Activity: Be curious about weird things
B. J. Novak was inspired to write a short story titled "A Good Problem to Have" (which appears in his bestselling collection One More Thing) because he was curious about "the hypothetical publishing rights of an author of a classic textbook problem," who writes them, and if they seek compensation.
26. Urusla K. Le Guin
Inspirational Activity: Pick any story from the air and run with it
Like Willie Nelson, who once answered "Where do you get your ideas from?" with "The air is full of tunes, I just reach up and pick one," Ursula K. Le Guin believes that inspiration is everywhere. Everyone makes up their own stories about the world ("People who can't make the world into a story, go mad"), so writers, while they are writing, just have to wait for one of these stories to find them—or seek it out themselves.
27. David Mitchell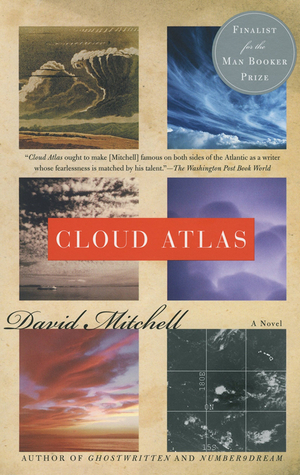 Inspirational Activity: Explore extended metaphors
David Mitchell structured Cloud Atlas after an idea he had had since age 18 or 19, asking himself, "What would it actually look like if a mirror were placed at the end of the book, and you continued into a second half that took you back to the beginning?" When he hadn't yet written out the idea by his third novel, he finally decided it was time.
28. Khaled Hosseini
Inspirational Activity: Watch the news
Khaled Hosseini saw a news story on TV in spring of 1999 about the Taliban, which discussed the rules the Taliban had put on Afghan people. At one point, it mentioned that they had banned flying kites, which Hosseini had done many times as a boy in Kabul, so he sat down and wrote a 25-page short story, and left it for two years. Later, he found it in his garage in 2001 and turned it into The Kite Runner.
29. Junot Diaz
Inspirational Activity: Keep an inspirational journal
Junot Diaz keeps a folder of any inspirational thing he encounters (ex. a black and white picture of his father in a fascist uniform, newspaper clippings, notebooks from the writing processes of his prevous books, mementos from previous points in his life, etc.). The picture of his father was Diaz's main inspiration for The Brief Wondrous Life of Oscar Wao.
30. Jeffery Eugenedies

Inspirational Activity: Latch onto Roman and Greek myths
Alternative: Research medical conditions
Since he was a kid, Jeffery Eugenedies had always been interested in the Roman character of Tiresias, who had lived as both a man and a woman. He was particularly struck by a comment Tiresias made when asked which sex had a better time in bed—"If the pleasures of love be as ten, then three times three belongs to woman. The rest belongs to man."
At 15, Eugenedies believed writers should be able to tell stories from both sexes' perspectives, so to have a narrator which achieved both at the same time might give him "a measure of that longed-for omniscience." He was further inspired by Foucault's Herculine Barbin: Memoir of a 19th Century French Hermaphrodite but believed it to be "melodramatic and sentimental," so he wanted to try to tell the story a different way. Also, Eugenedies wanted to write about a real person (not a fanciful, mythological creation, like Woolf), so he spent a lot of time in Columbia's medical library, where he stumbled upon "5-alpha-reductase deficiency syndrome." This is the disorder he eventually used as the medical basis for his narrator's struggle.
31. Mark Haddon

Inspirational Activity: Take a normal situation and make it not normal
Mark Haddon became inspired by Jane Austen for The Curious Incident of the Dog in the Nighttime because she wrote about boring people's normal lives. He decided he wanted "to take a life that seemed horribly constrained, to write about it in the kind of book that the hero would read — a murder mystery — and hopefully show that if you viewed this life with sufficient imagination it would seem infinite."
32. Emma Donoghue
Inspirational Activity: Draw from other writing
For Room, Emma Donoghue was inspired partially by Cormac McCarthy's The Road, because she "wanted to see what a mother-child modern myth would look like, because his father-child one was so powerful." She also uses other writing to help set her characters/plot—Samuel Richardson's Clarissa was Donoghue's inspiration on describing suffering, and John Fowles' The Collector for the perspective of the captor.
33. Jennifer Egan
Inspirational Activity: Exploit little moments in your life
Jennifer Egan got inspired to write A Visit From the Goon Squad because she found a wallet exposed in a woman's handbag in a hotel bathroom and was afraid someone would steal it. She started thinking about who would steal it and why, so when she came up with some answers, she wrote it.
34. Jon McGregor
Writing Inspiration: Listen to "run-of-the-mill" stories
Jon McGregor was originally inspired to write Even the Dogs because of a story he heard in 2003 about a man dying alone in his flat; however, he was more "inspired by how run-of-the-mill it was, rather than how shocking." He shoved it away until 2007 because it felt like he was "shaping up to write a novel about heroin, homelessness, and dead bodies."
Then, he decided to embrace the "run-of-the-mill": "The more I found out about the lives of people experiencing addiction, or living on the margins in some way, the more interested I became in the complexity of that experience."
35. Donna Tartt

Inspirational Activity: Visit yard sales
When Donna Tartt decided she wanted to write a novel about art, she started honing in on art everywhere she went. In 2003 she saw a copy of "The Goldfinch" (the painting) at a house sale, and she thought it was the perfect piece of art to appeal to a child—thus was born The Goldfinch, in which a boy carries the painting around in his backpack.
36. Madeline Miller

Inspirational Activity: Read ancient literature and fill in the gaps
Madeline Miller first read The Iliad with her mom when she was five years old, and as she grew up she kept returning to the passage where Achilles reacts to losing Patroclus. Because he doesn't appear much in The Iliad, Miller wanted to know what exactly Patroclus meant to Achilles and why Achilles mourned so fiercely for him.
Researching every thing about Patroclus she could find only reaffirmed her hunch that he may have meant more to Achilles than is explicitly stated: "I think there have been many people who have taken them as close companions, but looking at the way Achilles mourns, how incredibly deeply and sensually—holding the dead body all night, wanting their ashes put together—that seems to say something beyond [friendship] to me."
37. Lydia Davis
Inspirational Activity: Read the opposite of what you want to write
While translating Proust—and spending every day, from 10 am to 3 pm, slaving over the translations—Lydia Davis wrote her shortest story to date: "I loved constructing those sentences, but I think I also needed to resist [Proust's writing] a little bit by writing very, very short things. Just a title and two or three lines."
38. Annie Proulx

Inspirational Activity: Research other occupations
To write her book That Old Ace in the Hole, Annie Proulx called up some men who repair windmills in the Texas panhandle, because she had noticed that windmills through that area were being largely replaced by diesel pumps. She would ask them where they were going to be working the next day and if she could tag along. "Usually they're pretty forthcoming and willing and maybe even eager to share the difficulties and strains of their trade."
39. Ian McEwan
Inspirational Activity: Really listen to your parents'/grandparents' stories
Ian McEwan recalls that, "'Stop me if I've told you this before,' was a sentence my father never uttered." His father would repeatedly tell McEwan stories about WWII—having his legs "shot up," staying in a Liverpool hospital as a burn victim—and eventually, these stories all came together in Atonement, which McEwan calls, "my father's stories."
40. Miranda July

Inspirational Activity: Take long car rides
Miranda July's idea for The First Bad Man came to her "pretty fully-formed" on a car ride. She says the basic plot and two main characters appeared "in a flash!" and she wrote it down hastily, trying to get all the information down. Secondary characters and everything else came while she was writing.
41. Mitch Albom
Inspirational Activity: Write about people close to you who have died
The main character from Mitch Album's The Five People You Meet in Heaven is directly based on Albom's Uncle Eddie. After Tuesdays with Morrie, Albom wanted to write a book about a character who was hopeful despite already having lost. His favorite uncle, now dead, immediately came to mind: "As I got older, I saw him as a tough, devoted but sad old man who never got to see his dreams fulfilled and never really knew how much we loved him."
42. Judy Blume
Inspirational Activity: Go people-watching and imagine their lives
Judy Blume, a self-proclaimed "people person," has enough imagination to take in details while people-watching and come up with what's missing. She says, "Ideas come from everywhere–they come from what you see and hear and imagine. My husband says I have too much imagination, but I don't think a writer can have too much imagination!"
43. John Darnielle

Inspirational Activity: Start with a title, and then build a character
When John Darnielle, a member of the band "Mountain Goats," started writing Wolf in White Van, he wrote one scene about teenagers smoking and then got stuck. "I had the title already, because I really liked that title, but I wasn't sure what I was going to do."
So instead of trying to build plot, he decided to start getting to know his main character: "I started asking myself questions like improvisational comedians do, like what does he do for a living? What does he wear? Who are his friends? How does he make any money? What does he wish he was? All those sorts of things. That performative element is how I wrote the book, by asking myself questions about what happens then? What if this happens, then what?"
44. Joshua Ferris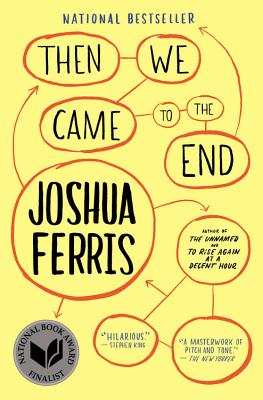 Inspirational Activity: Put one project on hold and work on something else
Two-hundred and fifty pages into writing what would become Then We Came to the End, Joshua Ferris decided they were "wanting." Not knowing what else to do, he decided to let it rest for a little while. He says, "I put them away and eventually gave myself over to a very different manuscript."
45. Rick Moody
Inspirational Activity: Let an idea sit
Instead of stopping a project for another project, sometimes you should maybe just stop a project for nothing. That's what Rick Moody does, when he gets an idea and gets stuck: "You know, in 'Purple America' I knew it would start with the bath, and then I just had no idea where it was going next. You know, sometimes I had to stop for a month because I just had no idea what the next bit of story was going to be."
46. Geraldine Brooks

Inspirational Activity: Walk in graveyards
One of Geraldine Brooks' pieces of advice to writers is, "Don't be afraid to see dead people." In fact, the idea for her first book, Year of Wonders, came from her "habit of communicating with the dead." She was in a graveyard in the "plague village" of Eyam when she noticed one of the gravestones had been carved, chipped away, and carved again, as if the first spelling of the name was wrong.
47. Raymond Carver
Inspirational Activity: Embellish your own life
Raymond Carver believes, like many writers, that all writing is autobiographical. "You're told time and again when you're young to write about what you know, and what do you know better than your own secrets?" He mentions to not take this totally literally, of course, but just to the extent that an inkling of whatever you're writing is drawn from your own life. "A little autobiography and a lot of imagination are best."
48. Melanie Banjamin

Inspirational Activity: Go to an art exhibit
Although she was not a big fan of Lewis Carrol's Alice in Wonderland, Melanie Benjamin was inspired to write a book about Alice Liddell called Alice I Have Been after seeing an exhibit of Lewis Carrol's photography at the Art Institute of Chicago. "One photograph in particular captured my fancy; it was of a girl clad in rags, staring at the camera with a very frank—very adult—gaze," she says. She did not write the book then, but did so years later when she mentioned the photographs to a friend and was urged to explore them through writing.
49. Richard Matheson
Inspirational Activity: Create an evil character out of the mundane
Richard Matheson dabbles enough in the sci-fi genre to know how to write a very human, very non-supernatural evil. For his short story and screenplay "The Distributor," Matheson aimed to explore evil in "such a banal everyday way. Nothing supernatural or mysterious about it. The protagonist just methodically demolishing the neighborhood."
50. Gabriel García Márquez

Inspirational Activity: Take a different look at disease
For One Hundred Years of Solitude, Gabriel García Márquez decided on a plague to burden his characters. He had always been invested in the study of plagues, specifically those of the Medieval times. Daniel Defoe's book Journal of the Plague Year about the Black Plague was highly inspirational for Márquez, and eventually he decided on an "insomnia plague" for One Hundred Years because it is the opposite of sleeping sickness.