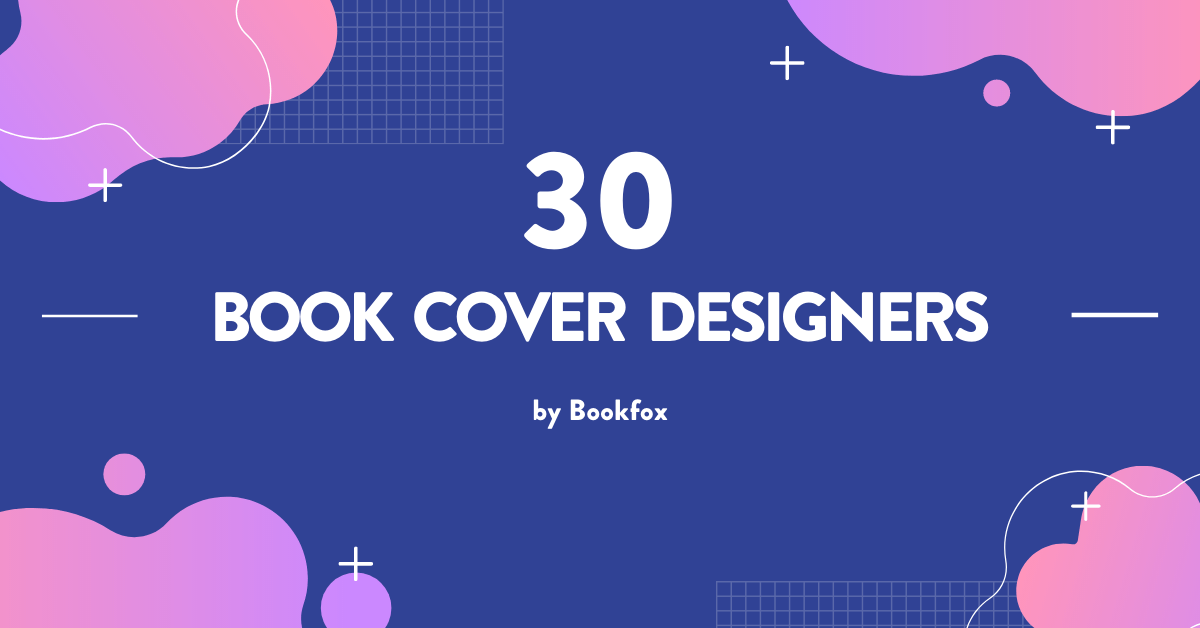 I've seen a lot of fantastic books fail because of bad cover design.
No matter how good your book is, people simply won't buy it if the cover art doesn't grab their eye.
It's unfair, but in a crowded marketplace you have to stand out, and the best way to do that is with a beautiful, eye-catching, genre-defining book cover.
Luckily for you, I've put together a rock-star list of fantastic book cover designers. These are the folks that will ensure your book has the best chance of hitting the bestseller lists. The list below offers a range of book cover designers to choose between, both in terms of pricing and genres.
1. Ebook Launch
If you're looking for a fast and professional book design, I would highly recommend the team at Ebook Launch. They've been around since 2011, can design for a wide range of genres, both fiction and nonfiction, and their covers look excellent (just check out the examples below).
What's more, they've even won some awards for their designs by TheBookDesigner. Go with them — they won't disappoint you.
Pricing: $399 – $499

Genres: Fiction and Nonfiction
Sample Designs:
2. Andy Carpenter Design (ACD)
Andy Carpenter Design (ACD) is a boutique design firm with over 25 years in the business. They are open to working with any genre. Their portfolio has a classy-vintage look — very respectable.
ACD charges a flat rate of $1000 that includes three designs for your cover, with two revisions available to you after your initial selection. 
They work directly with authors and small presses to create memorable print and e-book covers. As far as timing, they typically like to have a week to produce a quality cover. The initial design process itself usually is completed only within one or two days.
Pricing: $1000

Genres: Nonfiction and Literary Fiction
Sample designs:
3. Bailey Designs Books
Bailey Designs Books offers minimalist cover designs that easily catch potential readers' eyes. Perfect for targeting at YA readers or anyone that just wants to get to the meat of a good book.
They work directly with writers to create covers that perfectly match your style. As part of their promise to get that right, they offer unlimited revisions of designs.
Pricing and timelines are decided on an individual project basis.
Pricing: $300 – $400
Genres: YA and Literary Fiction
Sample Designs:
4. Baki Boquecosa
Baki Boquecosa is my favorite book cover designer artist in this article.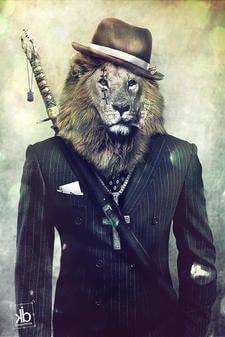 Look to your left and you'll see the type of surrealist artwork that Baki is known for best. Queue the image of an awesome mobster lion.
He has worked with many different stories featuring supernatural romance or speculative fiction. I highly recommend checking him out if you want a book cover that portrays the idea that not everything is alright under the surface.
Contact him via the information on his site to discuss pricing and project timelines. I didn't get any indication that Baki offers interior design, but he is experienced with web graphics as well as cover design.
Pricing: Project Basis

Genres: Sci-Fi, Fantasies, Romance
Sample Designs:

Connect with your audience and sell more books
45 video course with easy, practical steps

What to do before and after you publish

Gives you the confidence to market your book
5. Book Beaver
Book Beaver creates beautiful custom covers for a variety of genres. The Football Code by James Tippett is an exquisite cover made by them that you can see below.
They specialize in black and white cover designs that work especially well with mysteries and historical fiction to create images that are timeless.
All their covers are custom-made and custom-priced, but they are more than happy to work out a deal with you. Most covers take only two to three weeks.
Plus, Bookfox readers get a discount! When you contact them, mention Bookfox to get 10% off your design.
Pricing: Project Basis
Genres: Mysteries, Historical Fiction
Sample Designs:
6. Book Cover for You
Sanja Gombar is the artist behind Book Cover for You. She offers custom covers and pre-made options. Almost all of her covers have bright colors, and eye-catching characters brought to life front and center (although there is a cool one with a T-rex on it instead of a human).
Sanja's work seems to focus primarily on YA, fantasy, and romance stories, but she's done everything from historical dramas to keto diet cookbooks.
Her covers are affordable with print covers starting at $250, including three revisions and a first design within three days.
Pricing: $200 – $300
Genres: YA, Fantasies, Romance
Sample Designs:
7. Book Design Templates
Book Design Templates offers thousands of handmade template covers. Before you get defensive about using a template design, pause for a second, here are the perks:
They are quality designed covers by artists who love what they do.

They are sold only to you and never resold.

They are affordable and professional. There is no middle man between you and the artist.
Bonus: They will also make custom designs if you don't find anything that fits.
They also offer interior formatting to further personalize your book and guidebooks with tips and tricks of the publishing world.
Pricing: $200 – $500
Genres: Literary Fiction, Thrillers
Sample Designs:
8. Books Design
Books Design has a huge variety of designs.
These are cool covers. In a glance, I saw some historical fiction, fantasy, non-fiction, and some that I don't know which genre they would fit in (burning city in a man's hair–maybe an inner-city mystery?).
Initial designs usually take 10-15 days; from there, the process is smooth sailing. Pricing is entirely based on what you, as the author, would like to do. Designer, Ana Grigoriu-Voicu, knows what it's like to work on a budget and wants to give you a beautiful cover that fits yours.
Pricing: Project Basis
Genres: Mysteries, Historical Dramas
Sample Designs:
9. Book Cover Designer
Karrie Ross is the owner of Book Cover Designer. She offers personalized book designs, interior design, and consulting services.
Her covers do an excellent job capturing the person behind the story and she excels working on memoirs and biographical nonfiction.
If you only need a cover design, prices range from $650-$1250. This includes two layouts and two rounds of edits.
Pricing: $650 – $1250
Genres: Nonfiction and Literary Fiction
Sample Designs:
10. Book Designers
Book Designers is a worthwhile option for you whether it's your first book or you barely remember writing your first book.
Their portfolio is a testament to their quality work. They take the time to get to know your manuscript and research your target market to create covers that you have to see for yourself. Their covers make some of the best use of typography, with thick bold title fonts.
You can get a cover from Book Designers for a low as $750; this provides three to six cover designs and three rounds of revision. However, most authors who use their services opt for more inclusive packages that increase the price. They include services like text layout, page graphics, marketing tools, and more. Start to finish, the process generally takes one to two months.
Pricing: $750 – $3500
Genres: SciFi, Literary Fiction, Nonfiction
Sample Designs:
11. BookFly
Bookfly is a partnership between cover designer, James T. Ega, and editor, Kira Rubenthaler. The duo produces some of the most polished looking books in the self-publishing market.
Take a look at their portfolio. You know you want to…
They tend to stay very busy and recommend booking at least six months in advance. Their covers hover right below $800 and include up to 5 rounds of vision to make sure everything is just right.
Pricing: $799
Genres: Historical Fiction, Speculative Fiction
Sample Designs:
12. Coverness
Book designer, Mark Thomas runs Coverness. Mark's clients are mainly repeated customers.
His covers utilize light and dark themes to create a cinematic appeal. He creates covers for a variety of fiction and non-fiction genres, each worth taking a look at.
Book cover, e-book, interior formatting, and promotional art all come together for a baseline price of $818. Final payments should be made in UK£ Pounds Sterling so make sure you check conversion rates.
Mark is flexible in working with authors to provide precisely what you need and nothing you don't. Consultations are free, and he has a quick turn around time, providing you the first round of design pitches within three to five days.
Mark stays pretty busy, reach out to him early to ensure he is available to work with you.
Pricing: $818
Genres: SciFi, Thrillers
Sample Designs:
Get more readers by learning practical steps

Gain the confidence of a book marketing pro

Nab reviews, publicity, and attention
13. CoverTopia
CoverTopia is known as a one-stop shop if you need a cover design quickly and for less than $100. Their covers effortlessly tell readers what type of story to expect. Perfect for YA, action novels, or romance when you want to let your story speak for itself.
Their pre-made covers start as low as $79 for the writer on a budget. They also go as high as $850 for their premium cover package.
Pricing: $79 – $850
Genres: YA, Romance, Suspense
Sample Designs:
14. Damonza
Damonza is well known for consistently producing covers that readers buy.
They offer captivating cover designs, interior formatting services, proofing, and even movie trailers for your book. Any combination of these services is worth looking at.
They offer fiction and non-fiction covers with character-driven designs. Their e-book design packages start at $495, and print designs begin at $595. Within 14 days of placing an order, you can have two book cover design drafts in your hands (well via the internet, but you get the idea).
They offer unlimited changes and a 100% money-back guarantee. Based on their 5-star reviews, I don't think you need to be too worried about leaving unsatisfied if you choose to work with Damonza.
Pricing: $495 – $820
Genres: YA, Speculative Fiction
Sample Designs:
15. E-Book Cover Designs
A secret about E-book Cover Designs is that they also do high-quality print covers and box sets.
They offer covers for every genre, most of their covers focus on making your protagonist (or antagonist) appear proudly or deviously–personal preference. They know how to make your character look awesome and stand out in the reader's mind.
This is a great deal if you're looking for a killer cover that often takes less than a week to complete the whole. Paperback covers start at $299, and boxsets begin at $349. The number of revisions needed is up to you and is no extra cost. E-book Cover Designs also offers web graphics, banners, and logos. Prices for these services are listed on their site.
Pricing: $299 – $349
Genres: YA, Romance, Fantasy
Sample Designs:
16. Extended Imagery
Extended Imagery cover designs are dark and cinematic, except when they're not. The majority of their previous work has been for science fiction, thrillers, and fantasy.
They aren't shy about blood and gore if that's what you're looking for. Think about their book covers like tattoos on the skin of your novel.
On the other hand, they have also created fun (not scary) children's literature covers for all grades up through YA.
They price each package deal independently, and the artist, Carl, is a friendly dude.
Pricing: Project Basis
Genres: Horror, Mysteries, Thrillers
Sample Designs:
17. JD Smith Design
JD Smith is a designer who works with authors to create personalized covers. Her portfolio has a little something for everybody, with a definitive specialty in fiction works.
As a published historical fiction author herself, she is one of the best options here if you are looking for cover designs inspired by the past. Picture early American frontiers and Victorian hairstyles.
She is known by her clients to be very reasonably priced. Along with cover design, she also does formatting and web design.
Pricing: Project Basis
Genres: Historical Fiction, Romance
Sample Designs:
18. Jessica Bell
Jessica Bell is a singer-songwriter, poet, and cover designer. She has been in the business since 2011.
Her covers are a mix of vintage styles, high-waisted jeans, and a touch of magic. Perfect for stories that work with magical realism or surrealist elements.
Part of her process for working with authors includes a very detailed questionnaire. She also has a list of resources for writers and enjoys helping develop your work into your brand. 
Pricing: $430 – $1800
Genres: Urban Fantasy, Surrealist Fiction
Sample Designs:
19. Julie Metz LTD
Julie Metz LTD is a hidden gem in the design world. Notable covers by her include novels like The Poisonwood Bible and The Romantic.
Metz's background in photography has heavily influenced her work as a designer. Her cover designs give off mysterious vibes and offer a degree of subtlety not often found. She specializes in trade fiction, memoirs, nonfiction, YA, and new adult literature.
She takes each client on a completely custom basis. Therefore you get custom pricing. Her availability is limited, so make sure to reach out early to work with this extraordinary artist.
Pricing: Project Basis
Genres: Urban Fantasy, Surrealist Fiction
Sample Designs:
20. Mars Dorian
Mars Dorian creates content that screams original. If you are looking for cover art that borders comic-y in the best way possible–he's your guy. Mars is the ideal artist for authors with experimental and hybrid styles, and people who want to make noise in the market. Mars also offers consultations for authors that focus on self-branding and marketing.
He has a quick turn around time and always has an open inbox. Reasonably priced, he's open to negotiation.
Pricing: Project Basis
Genres: Speculative Fiction, Cross-Genre Fiction
Sample Designs:
21. Paper & Sage
First off, I really like the name Paper & Sage. It sounds like the perfect name for an earthy, calming candle scent.
Secondly, they produce quality covers for books that fall in all genres, with their focus being centered around romance, YA, and mysteries. Designer, Christa, wants your cover to be everything you imagined and sell the story.
They offer custom and pre-made covers, so they have options to fit every budget. This makes them one of the most economical designers on this list too! They don't offer interior design, so keep that in mind if it is essential to you.
Pricing: $150 – $350
Genres: YA, Romance
Sample Designs:
22. Raven Book Design
Raven Book Design knows the publishing industry like the back of its wing.
As an established cover designer, they can be a little more pricey, but they offer a wealth of knowledge and services that few designers can compete with on the market today.
Most authors spend around $2,086, including 2-3 rough sketches, bar codes, digital files of all work, and more. Page design is not included in that quote and is a separate service that hovers around $2,000 for fiction.
The covers themselves cover all genres. Nature themes and YA works seemed prevalent from just taking a quick look at their portfolio.
Pricing: $2000 – $2650
Genres: YA, Nonfiction
Sample Designs:
23. Robin Ludwig Designs
Robin Johnson is the artist behind Robin Ludwig Designs.
An experienced photo-manipulator, she offers full-service book cover design, marketing, consultation, and book branding.
All of her covers (premade and custom) are under $200, before the cost of any edits. Edits are an additional $20 to $60 per round. Covers are also delivered quickly and professionally, rarely taking more than 2-3 weeks.
Robin is a huge supporter of new authors and attends literary and genre writing events around the country. She is your go-to gal if you want an inexpensive cover and some additional supports.
Pricing: $189
Genres: SciFi, Thrillers
Sample Designs:
24. RocketRiver
RocketRiver specializes in web advertising and marketing. Book covers are one of their many services. However, we are here for the best book cover designs, so that is what I'm going to focus on.
Their book covers fit best with hybrid works, memoirs, and creative nonfiction.
They want to help you build a lasting brand and package their cover design in with additional graphic support. Pricing is determined based on your goals as an author and what they can do to help you achieve them.
Pricing: Project Basis
Genres: Memoirs, Creative Nonfiction
Sample Designs:
25. StreetLight Graphics
Streetlight Graphics creates fun covers for hard-hitting stories.
They strive to create covers that are different from everything else on the market, without losing your core readers. Think, lots of celestial views and shadow-play. Perfect for authors who prefer not to have the face of their protagonist illustrated or shown to the reader. Pricing ranges from $300 to $600.
They work quickly with most projects taking two weeks, and they will do as many rounds of edits as it takes to get everything to match your vision.
Pricing: $300 – $600
Genres: Literary Fiction, Fantasy
Sample Designs:
26. Syd Gill Designs
Syd Gill Designs offers mainly romantic cover designs in a quick turn-around time (typically a week or two). She is open to working with all genres, but beautiful romance covers are her specialty.
Clients rave that Syd is an incredible asset to their stories. Her skills as a web designer lend themselves well to working with authors from the branding and marketing side of things. 
She has also worked with New York Times Bestsellers: JoAnn Ross, Carly Phillips, and Linda Conrad.
Pricing: Project Basis
Genres: Romance
Sample Designs:
27. Vanessa Mendozzi
Vanessa Mendozzi is an artist and book cover designer based out of London.
She has designed book covers for international bestselling authors and emerging authors alike.
She is always willing to help out new writers and offers advice about self-publishing. When it comes to book covers, her first cover designer is free. Really it is!
Most of her experience with design is with fiction, but Vanessa is willing to work with any genre. Her work uses vibrant colors to help your books jump off the shelves. She can currently only accept five clients a month, so make sure to contact her early!
Bonus: She also does interior design for pages and graphics.
Pricing: Project Basis
Genres: Nonfiction, Creative Nonfiction
Sample Designs:
28. Vision Press
What makes Vision Press unique is its experience working specifically with independent authors. These guys know what makes a good cover and what makes stories sell.
Speculative fiction, thrillers, and YA can all be seen sitting side-by-side in their portfolio. They aren't limited to any genre though.
Their cover design packages each carry their own titles, "The Essential E-Book" costs $189 while the "The Definitive Design" is their most expensive cover package at $679. More package details can be found on their site.
Pricing: $189 – $679
Genres: Speculative Fiction, Literary Fiction
Sample Designs:
29. WolfSparrow Covers
WolfSparrow Covers works in the world of romance. The artist is an erotica romance author herself and knows what audiences are looking for to draw them in.
She is open to working with writers of all genres and wants to promote typically unheard voices like LGBTQIA and ethnic/racial minorities.
Her prices range from $50 to upwards of $400 depending on what you are looking for and how quickly you need a cover. Reach out early to ensure that you both can work together!
Pricing: $50 – $400
Genres: Literary Fiction, Romance
Sample Designs:
30. WordSugar Designs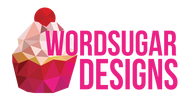 Wordsugar is run by artists (and writer!) Ginny Glass. She offers services in graphic art, marketing consultations, and editing.
Her covers use a combination of bold type fonts and subtle imagery to bring books to life.
She has experience with all genres but seems to have an exceptional talent for mysteries and romance.
Her e-book covers hover around $300 and her print covers, $400. Her other services are priced on a per-project basis. Timelines vary, but it's best to reach out early.
Pricing: $400
Genres: Romance
Sample Designs:
31. Alexandra J. Brandt
Alexandra J Brandt is a speculative fiction writer and designer. She creates haunting cover designs, e-book covers, and web graphics for both novels and short stories.
She works with authors on a personal level to discuss rates (generally between $100-$350) and rounds of edits needed.
Also, shout out to Alexandra for winning TheBookDesigners.com Cover Design Fiction Award for three years in a row!
Pricing: $150 – $400
Genres: Sci-Fi, Fantasies, Thrillers
Sample Designs:
32. Jeff Brown
Jeff Brown is a sci-fi and fantasy illustrator and cover designer, who has been helping authors full time since 2013. 
If you choose to go with him, he starts with a video call and brainstorming session while sharing his screen to create the perfect cover. This type of one-on-one personalized attention ensures you get the ideal design for your book.
Pricing: $1400 – $1800

Genres: Fantasy, Scifi
Sample Designs:
33. Creative Indie Covers
Creative Indie Covers does not only do book covers but can work with your book marketing as well. They work with different genres across Fiction and Non-fiction with over 10 years of experience. Their results speak for themselves with multiple book designs that made it to NYT Bestselling books and Oprah Magazine. They focus on creating book covers that sell to your audience.
They offer 3 different price points for book design and marketing which includes 3D promotional graphics, book marketing courses, and 1 month of publishing support to name a few. 
Pricing:

3 price points of $349, $549, and $849
Sample Designs: 
Final Thoughts
To wrap up everything that I mentioned, here is all the essential stuff:
Spend more money. It's worth spending more money to get the right cover. Don't get cheap at this stage of the process.
Don't rush it. Some designers work quicker than others, but it's good to allot 2 – 3 weeks for a designer to discuss, create, and revise your image.
Have an open mind. Come to the designer with an open mind and some general principles, not the exact image you want. A good cover designer will create something much better than you could have imagined. The cheaper they are, the more direction they need. The more expensive they are, the less direction they need. 
About the Author:
Hello! I'm down here! My name is Grace Giska. I am an undergraduate student studying Creative Writing and the author of three novels, one of which I like a lot. I love immersing myself in the writing community and hiking on the weekends. If you have anything to add about these book designers or want to suggest an addition to this list, please leave a comment below.