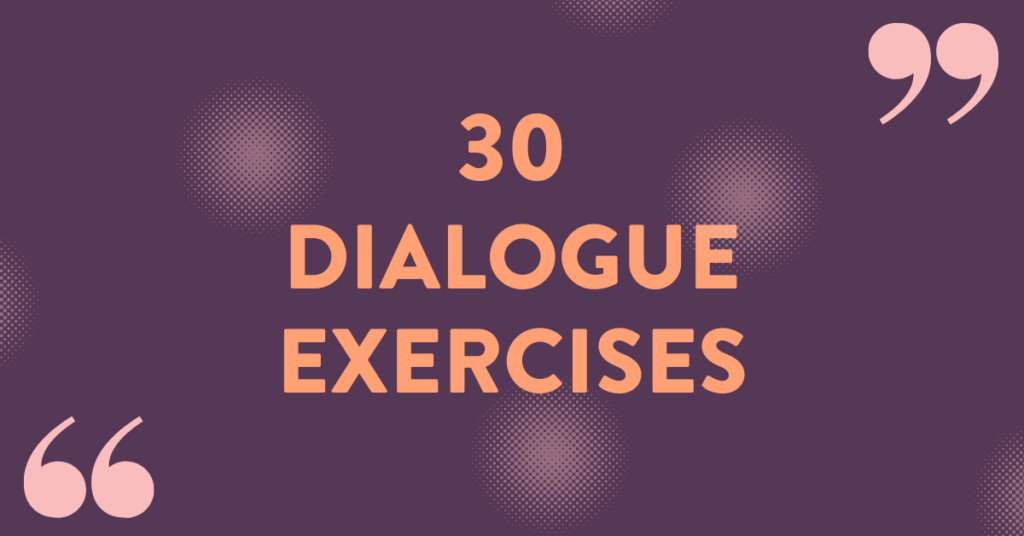 If you want practice writing some dialogue, these exercises will stretch your creative writing muscles.
More importantly, you'll learn techniques that you can apply to all your future dialogue writing.
If you want to see examples of dialogue, please visit my post on 50 Examples of Dialogue Writing.
Otherwise, please read on and make sure to try out at least one of these exercises (seriously: don't read these all and then avoid trying a single one).
1.
Write a scene of dialogue between teenagers arguing about whether to shoplift a designer jacket. One has done it before, while the other one has never stolen anything. Halfway through the conversation, reverse their positions, and have them start arguing for the opposite course of action. This is what's known as a dialogue twist, and it will help you create surprising reversals in your dialogue.
2.
Write an argument between a mother and a daughter where every single line of dialogue is accompanied by an action, a thought, or a description. You should have zero standalone lines of dialogue, until the very last line. For the very last line, which should involve a big decision or statement by one of the characters, have that line be dialogue alone.
This is a great way to learn how to use structure for emphasis – the standalone dialogue is more important, so you're using formatting to set it apart.
3.
Write a sex scene where one partner becomes frustrated and it turns into a conversation between the two instead. Use the physical body language to accentuate the dialogue (one tries to touch the other, and is rebuffed both physically and verbally). By the end, resolve the disagreement and have them start romantic intimacy once more.
4.
Amy comes home and notices that John has spent a lot of money on several items, even though they're on a strict budget and he recently lost his job. But she doesn't say anything directly to John about what he bought. The dialogue should be critical of John, but not for anything to do with the budget, money, or what he bought. Give the reader access to Amy's head – her thoughts should stand in strong contrast with what she actually says out loud.
This is a contrast exercise where you learn how to oppose thoughts and dialogue in a way that gives maximum pleasure to the reader.
5.
It's important to write one-sided dialogue, in order to get the feeling of extended speaking. For this exercise, you'll write what a mother or father would say to their infant. The adult is going to work on an oil rig and won't see them for a year or more. What do they want to tell their child?
6.
Write an argument between two people as a third person yells from off-stage: "C'mon, we gotta go!" This is yelled with increasing urgency each time, until the fourth time when the speakers finally stop the conversation and leave. This is an excellent way to give dialogue a sense of escalation and climax. It comes from an external force, not from the conversation itself.
7.
Take dialogue that you've already written in a short story and novel, and do a word count. Now try to compress it by cutting at least 50% of the words. Focus on cutting the dialogue itself rather than the thoughts/actions surrounding the dialogue. When you're doing, read both the uncompressed version and compressed version out loud – which one sounds better? Which one sounds more natural? Which one sounds punchier?
8.
This dialogue exercise is one in artificial limitation: You're only allowed to write five words per line of dialogue. That's right – each character only gets to speak five words max before the other character speaks. The result should be sharp and staccato sounding, and rip off the tongue quickly.
9.
Create a conversation between two classes of people: one rich, highbrow and well educated, and the other poor, lowbrow, and working class. They are arguing over the how to save a dog that's fallen in a deep pit. Use slang and formality to help the reader distinguish between the two.
10.
Print out this comic page and write your own dialogue for what the characters could be saying. Bonus points for creating sharp contrasts in how each character speaks.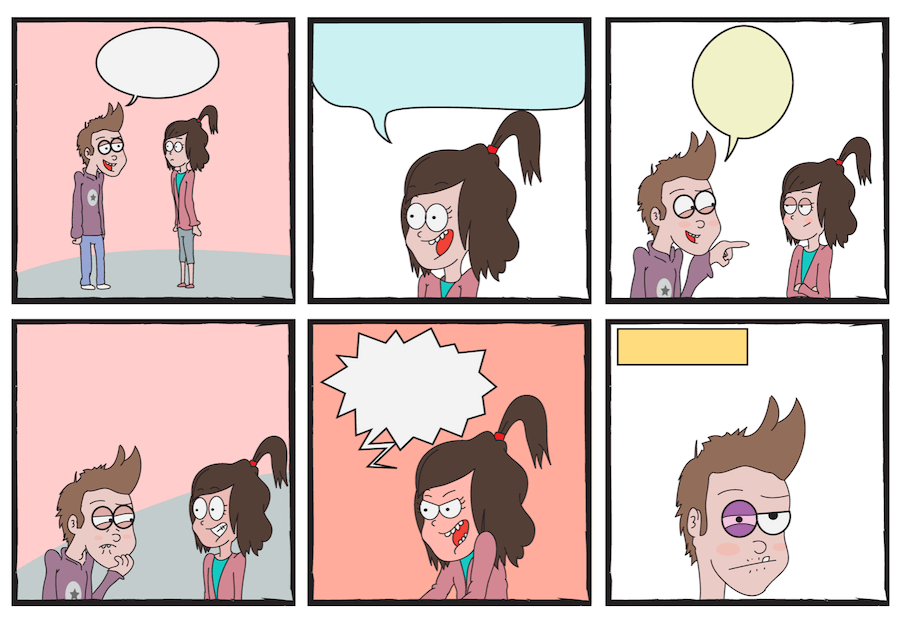 11.
It's very important to have your characters talking TOWARD something. Here is the last line of a dialogue between two people: "Fine, I'll do it." Now write a page of dialogue between these people ending in that line.
What inspired this exercise was a quote from William Sloane, who said, "Know what the scene is supposed to accomplish and have your characters write toward it, not in circles."
12.
When our audience is different, we change how we speak. Have a character explain why she left her parents and sought emancipation from the court when she was only sixteen (she's older now). Have her explain this to four different types of people:
Her five-year-old child
A police officer
A friend from high school
An older woman in a bar
13.
For this exercise, you're going to practice making different characters sound different. This is your standard line: "I'd like you to stop doing that." Now write that line the way a vast array of characters might say it:
Harvard Graduate
Valley girl
European snob
Surfer
Computer Geek
Jock
14.
Take 3 lines of dialogue from each of your two main characters and put the lines in a separate file. Does the dialogue look different? Sound different? Could someone who hasn't read the book tell these characters apart?
15.
Write dialogue between two characters who are about to be executed. Don't let them talk about their impending death at all, but only about their favorite foods. Make sure their discussion of their favorite food has an underlying meaning of their last hours.
16.
Write a one page scene where each of the characters refuse to respond to what the other one is saying. Give them both separate agendas that they want to discuss, and neither gives in to the other person's topic.
17.
For this dialogue exercise, a husband comes home from work and his wife has just learned that he cheated on her. What would she say to him without revealing that she knows about his infidelity?
18.
Exercise: Try writing dialogue where one character keeps repeating the exact same phrase throughout the whole conversation. Try one of these three phrases, no matter what the other person says.
Are you sure about that?
I don't believe you.
But I'm the greatest.
19.
Kibitizing is a chess term for when people are watching a chess game and talking about it. It's very annoying for the people who are playing the game – it's like real-time gossip, or a backseat driver.
For this writing exercise, you'll have two characters who are talking about a third character who is playing a tabletop boardgame. The third is not in the conversation, but he/she can hear everything the two characters say. How does their conversation change if they realize halfway through that the third person can hear them?
20.
Try to write a conversation between five separate characters, and figure out how to make the reader remember who is who. Use all the techniques in How to Write Dialogue to make each character seem distinct and unique.
A mother and father are driving somewhere and their five-year-old daughter and seven-year-old son are in the back seat. Make the parents discuss a very sensitive topic (divorce, miscarriage, drug use, etc) by speaking elliptically, hinting at the topic so the children won't understand what they're saying. This is a great way to learn how to write dialogue that isn't so direct and punches the reader in the face with its obviousness.
21.
In the Psalms of the Bible, there are some Psalms that call down fire and brimstone upon the enemies of the Israelites. These are called Imprecatory Psalms.
You're going to write some Imprecatory dialogue. Although most of the time, characters hold back from saying what they think, you're going to have a character break and pour out a diatribe against someone or something they despise.
Build the scene with very polite dialogue, and then a tipping point followed by the angry rant.
22.
Write a scene of dialogue a father and his teenage son. The son has gotten in trouble in school, and his father is reprimanding him. In the first half, make the dialogue extremely quick (reference the "Pacing" section of How to Write Dialogue if you want more instruction on how to do this). In the second half, slow down the dialogue between both characters.
23.
Watch two television shows and pick out a random line of dialogue from each. Then put the dialogue back to back and make a conversation out of it between two characters. It will appear as a non-sequitur (obviously) and that's excellent – people often talk in non-sequiturs. You want to have them talk at cross-purposes, each refusing to each with what the other one is saying and asking, almost as if they are each having their own little separate conversation.
24.
In J.D. Salinger's Franny and Zoey, there is a character who prays "the Jesus Prayer" as a kind of mantra. Give your character a mantra that they repeat again and again as another character is interrogating them.
25.
The Ouroboros Exercise: Go to a public place and eavesdrop on a conversation. Pick out a single line of dialogue (a short one) that strikes you as memorable and contains a hint of conflict. Start a dialogue between two fictional characters beginning with that line of dialogue, and by the end, have one of the characters repeat that exact same first line.
26.
Start with two characters having a conversation: one is talkative and the other one says very little. The one who says very little should communicate mostly through:
Body language
Gestures
Actions (holding up a knife? Or report card?)
Facial expressions
Non-verbal noises (snorts).
This exercise will strengthen your ability to add physicality to your dialogue, and prevent you from relying too heavily on dialogue alone in a scene.
27.
Two characters are angry about something, but they refuse to argue directly about it. Instead, make them argue about an ancillary topic.
28.
Write an argument between two characters. One character will have to use the words:
Kerfuffle
Flim-flam
Doggone
By jove
The other character must use these words:
Bombastic
Jargon
Gullible
Nobility
29.
Pick a dialect (southern, Australian, etc.). Now put this character in a scene where they are misunderstood because of their dialect. What do they say in response?
30.
Try to write a dialogue with five or more characters, and try to make it easy for the reader to keep them all separate by these methods:
Make them speak differently
Give them mantras or frequent phrases
Give them personality and attitude