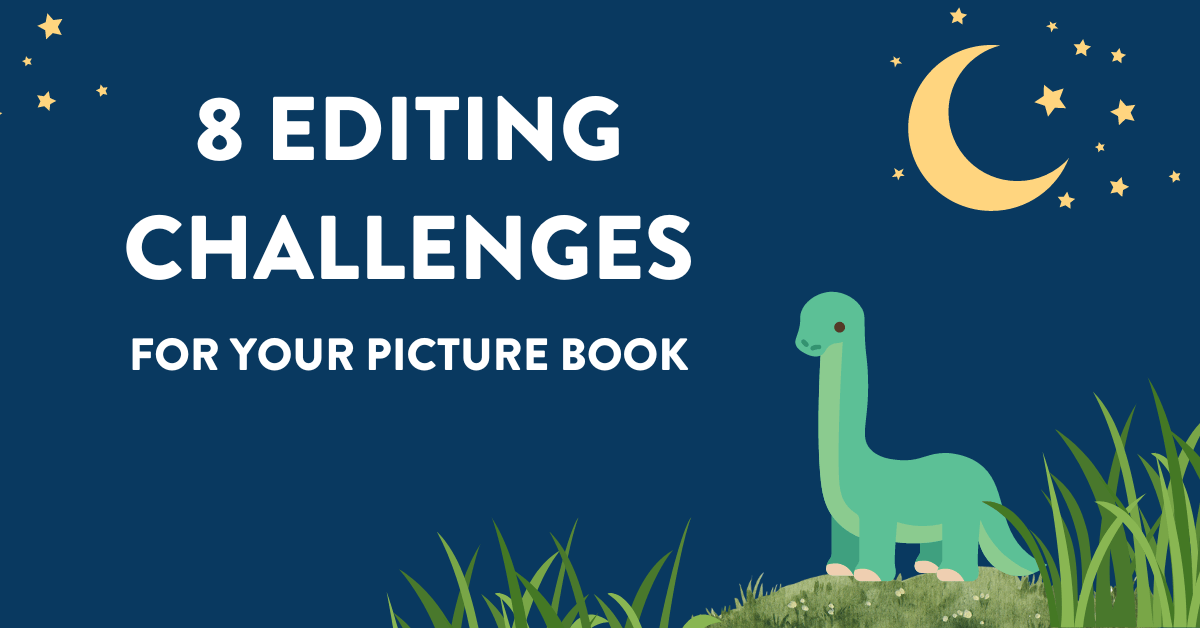 Every single word in a children's picture book is precious.
That's because you don't have very many of them. Most picture books are between 200 – 800 words. That means every single word needs to carry its weight, and any words that aren't doing their duty need to be cut, pronto.
As an editor, I've spent most of my days over the last seven years carefully helping authors choose exactly the right words for their book (and also telling them which words to cut).
This post is going to teach you how to line-edit your children's book. This is essential whether you're submitting to literary agents and publishing houses, or whether you're going to self-publish.
So buckle up! We're about to go on a crazy ride.
Why Every Word Matters
A novel is about 100,000 words.
A children's book is about 800 words.
That's 1 picture book word for every 125 novel words. 1 = 125. 125 words is the amount of words already in this blog post. That's a lot of words!
If you wouldn't have a bad paragraph in a novel, you shouldn't have a misplaced word in a children's book. Yes, the repercussions feel that huge.
Common Editing Errors
In my experience, these are the most common errors that authors make when line editing their children's book:
Assuming the story is tight. I've had hundreds of authors tell me they couldn't possibly cut a single more word from their book, or else the entire structure will fall apart. Most of the time, I can easily (without blinking!) cut 200 – 300 words off, and it doesn't hurt the story in the slightest. In fact, their book becomes much better!
Cutting words rather than sentences. There's only so far you can go if you're trimming around the edges of your sentences, cutting an adverb here, an adjective there. The real improvement comes when you're willing to delete whole sentences, whether's that's because they're redundant or
Over-Explaining Everything. You want your story to be clear, sure, but don't underestimate your young readers. Kids are pros at reading between the lines and grasping implied messages. Over-explaining sucks the joy and magic out of discovery. Treat your audience of kids as intelligent and they will surprise you.
Overusing Adverbs and Adjectives. It's tempting to dress up your sentences with all sorts of descriptive words, but less is usually more. Lean on strong nouns and verbs to do the heavy lifting. Adjectives and adverbs should be used sparingly and purposefully. Don't tell us the dog is "very, very big." Show us how it can only fit half its body through the door. Or better yet, just have the illustrations show the size.
Ignoring the Illustrations. You virtually never need description in the text for a children's book. Don't tell us the house is brown, or the character's hair is curly, or the boat was nearly sinking. All of those visual things are better conveyed through the illustrations — which means you can probably cut another 50 words or so from your book.
Why Aren't You Cutting?
1. Attachment Issues
Let's get real: authors get attached to their words. You put your heart and soul into crafting each sentence, and cutting even one feels like a betrayal. It's your baby, and no one wants to chop off their baby's arm, right?
2. The Myth of Complexity
Many authors think that more words equal more depth. But when you're dealing with young minds, simplicity is key. Books like "The Very Hungry Caterpillar" or "We're All Wonders" tackle complex themes in a straightforward manner. They don't need extra words to add weight to the story.
3. Fear of Losing Meaning
Newer authors often worry that cutting words will dilute the story's essence. The fear is understandable but misguided. Often, a more concise version can pack a stronger punch. Certainly the characters will stand out in higher relief if you cut away all the unnecessary words.
The Editorial Role:
Part of my job as an editor is to gently and kindly coax you away from those three beliefs, and show you how with a few tweaks, your story not only retains all its meaning, it also has:
a faster pace
more room for illustrations
is simpler for kids to understand.
When you see your story stripped of all the unnecessary words, you will definitely understand the benefits of concise.
8 Editing Challenges
It's often helpful to create artificial restrictions to help you condense your children's book. Here are a few challenges that you can take that will help you self-edit your book.
Challenge 1: Word Cap each Page
Task: Tell yourself that you're not going to have more than 10 words per page (or choose another number — 15 or 7, or whatever). Then go through your book page by page, doing everything in your power to get the words on that page under the word count.
Why it works: Even if you go over on one page (for a very good reason), I guarantee you that doing this challenge will help you trim your word count down.
Challenge 2: The Word Count Cut
Task: Start by trimming 10% of your word count. Yep, you heard that right.
Why it Works: This forces you to focus on essentials. You'll quickly spot filler words, redundant phrases, and long-winded sentences that can be simplified.
Challenge 3: The Read-Aloud Test
Task: Read your entire manuscript aloud, recording yourself if possible. Play it back and listen carefully.
Why it Works: Your ear is an excellent judge of rhythm and flow, often catching awkward phrasing or redundancies that your eye might skip over.
Challenge 4: The Verb Vigor Exercise
Task: Go through your manuscript and identify all the verbs. Replace weak or common verbs with more vivid, action-oriented alternatives.
Why it Works: Strong verbs add dynamism to your story, allowing you to convey more with fewer words.
Challenge 5: The Adjective and Adverb Audit
Task: Highlight every adjective and adverb in your manuscript. Can you eliminate them or replace them with stronger nouns and verbs?
Why it Works: Adjectives and adverbs often serve as crutches for weak nouns and verbs. Dumping them makes your writing more concise and impactful. Instead of saying "He ran very fast" say "he sprinted."
Challenge 6: The Repetition Roundup
Task: Identify repeated words or phrases throughout your manuscript. Replace them with synonyms or rephrase the sentences.
Why it Works: Repetition can be effective for emphasis but overdoing it gets monotonous. A little variety keeps the reader engaged. I should add that if you have a refrain, you don't want to cut this! Some forms of repetition are really pleasing in a children's book.
Challenge 7: The Show-Don't-Tell Challenge
Task: Find instances where you're explicitly stating facts or emotions. Can you show these through action or dialogue instead?
Why it Works: Showing provides your young readers with a richer, more immersive experience, allowing them to engage with the story on a deeper level.
Challenge 8: The Outsider's Opinion
Task: Enlist a friend, family member, or even better, an editor to read your story and provide feedback.
Why it Works: Fresh eyes can catch things you've grown blind to. If you're really committed, you could hire me as an editor for professional guidance.
FAQ
Q: Can a longer, more complex word be better than two or three simpler words?
A: Absolutely! Sometimes a more complex word can convey nuance or emotion that simpler words just can't match. However, it's important to ensure that the word is age-appropriate and can be either understood from context or easily explained by a parent or educator.
Q: Can I sacrifice some word economy for the sake of style or voice?
A: Style and voice are important, and sometimes they are more important than being super concise. Ideally, you'd be able to craft a great voice on the page AND have a compact book, but these are both great things to aim for in your book. The key is to find a balance where your unique voice shines through without overshadowing the story or confusing young readers.
Q: Doesn't repetition fight against word economy?
A: Repetition can be effective for emphasis and for helping young readers understand and remember the story. However, it should be used judiciously. Unnecessary repetition can make a book monotonous and reduce the impact of the words that truly matter.
Q: How can I improve my skills in making every word count?
A: Practice makes perfect. The more you write, the better you'll get at distilling your stories down to their essence. You could also read widely within the genre to see how other authors have successfully (or not so successfully) handled word economy. Professional feedback can also be invaluable—whether it's from a trusted friend, writing group, or an instructional post.
Q: How do illustrations impact the word count?
A: Illustrations play a huge role in children's picture books. They not only complement the text but often carry the story forward or add additional layers to it. Authors need to remember that the illustrations will be doing some of the storytelling and therefore should avoid redundancy between the text and the images.
Q: Can dialogue in a picture book afford to be wordier since it's spoken?
A: While dialogue can be a bit more relaxed than narrative text, it's still crucial to keep it concise and meaningful. Children are adept at picking up spoken language, but they also lose interest quickly if the dialogue drags on without serving the story.
Making every word count is less about minimalism for its own sake and more about maximum impact. Each word should earn its place on the page, creating a compelling, enjoyable, and meaningful experience for young readers.
The Grand Finale: Put it All Together
Once you've gone through these challenges, it's time for a final read-through. At this stage, you might find that your story is transformed, elevated, ready for the spotlight. And if you're interested in mastering the art of children's book writing even further, check out my course "Two Weeks to Your Best Children's Book".
Take these challenges seriously, and I guarantee you'll end up with a manuscript that's not just leaner, but also more engaging, more precise, and more ready to capture young hearts and minds.
Not everyone knows how to cut effectively. It's not about hacking away at your manuscript like it's a piece of meat; it's about surgically removing what doesn't serve the story.