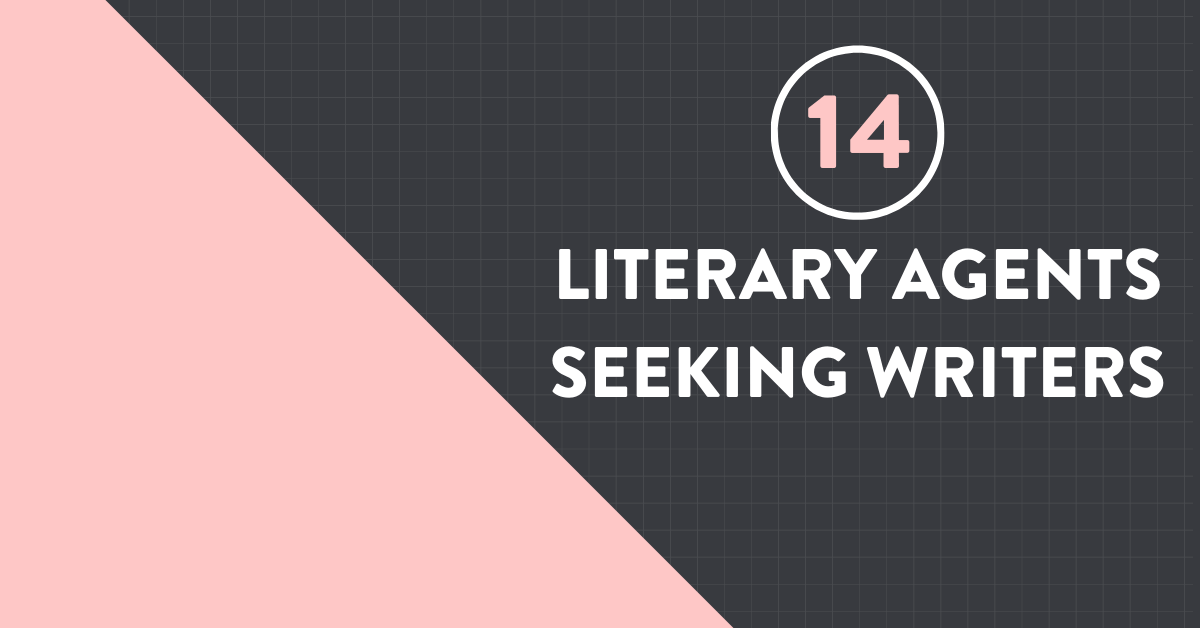 After years of grueling work, avoiding distractions, and breaking through writer's block, you finished your novel. Now what?
Even though some jump straight to submitting it to publishers, for many writers, the next step is finding a literary agent. Literary agents help writers find publishers, as well as negotiate the deal and sales of the book.
But some agents who have been in the business for years get north of 10,000 queries a year, and only sign 1 or 2 clients. Those are terrible odds. You need to find a new agent who is the lookout for new writers, and this is exactly what this list gives you.
Patterson is a part of Brandt & Hochman Literary Agents, Inc. seeking interesting memoirs. Copy and paste the first ten pages of your manuscript, along with a query letter, directly into the email. The query letter should give insight to the story, the author, and their previous projects.
2. Steve Kasdin
As an agent with Curtis Brown Ltd., an entertainment agency, Kasdin is interested in looking at general literary fiction. In your email, include a one to three page plot synopsis, a query letter about how your work stands out, and a bio about you and your previous published works. He also suggests adding 40-50 pages of the manuscript as an email attachment.
Manning is a new literary agent at United Talent Agency seeking both fiction and non-fiction manuscripts. In the body of your email, put your cover letter. As attachments, add your synopsis and the first three chapters of your work.
4. Suzy Evans
Evans works with Sandra Dijkstra Literacy Agency, searching for manuscripts in a few different areas. She's interested in non-fiction for both adults and children. She's also intrigued by YA, especially stories that confront important issues common in the age group. Her email queries vary for fiction and non-fiction. For emails about fiction manuscripts, include your query letter, a plot synopsis, and your first chapter. For non-fiction manuscripts, include a query letter and a short author biography.
Smith is an agent with L. Perkins Agency looking for manuscripts across many adult genres. She's interested in romance, erotica, LGBTQ, as well as thrillers and fiction aimed towards women. Advice, memoirs, and how-to guides are also encouraged. Your query letter in the body of the email should include a bio, a concise synopsis, and the first five pages of your manuscript or proposal.
6. Sam Freilich
Freilich works with Elyse Cheney Literary, and he is looking for manuscripts for a multitude of genres such as narrative nonfiction, biographies, crime novels, and literary nonfiction. He is also partial to anything related to Los Angeles. In a query email, write about the story and your previous career endeavors, as well as no more than three chapters of the work.
Brown is a new asset to the Emma Sweeney Agency, but all queries will go to the agency email. Brown is looking for thrillers, narrative non-fiction, literary and commercial fiction, as well as lifestyle books and cookbooks.
The email should describe the plot/proposal, a short author bio, and a cover letter about your writing experience along with where you heard about the agency. The agency also ask that the first ten pages of your proposal or manuscript be pasted directly into the body of the email, not as attachments.
McDonald, an agent with Donald Maass Literary, is looking for science fiction and fantasy fiction for all age groups. She's on the lookout for alternate history and secondary world fantasy manuscripts. Along with your query letter, include a plot synopsis and the first ten pages of the novel into the email.
9. Marya Spence
Spence is a new agent at Janklow & Nesbit searching for manuscripts across the genre board including upmarket commercial fiction, pop culture, funny or critical narrative journalism, as well as literary fiction and non-fiction.
Queries are accepted both through email and mail. For emails about fiction include a cover letter, a short plot synopsis, and the first ten pages in the body of the email. For nonfiction stories, send an outline and cover letter to the mailing address. Address the queries to Spence, or any other specific agent.
Janklow & Nesbit Associates
445 Park Avenue
New York, N.Y. 10022
---
---
Land the book deal you've always wanted.

Improve your book with feedback from a professional editor.
---
---
10. Chris Bucci
Bucci is a part of the McDermid Agency, searching for manuscripts from a variety of genre authors. He is interested in novels for historical fiction, thrillers, mysteries, narrative nonfiction, and commercial literary fiction. Nonfiction genres he is looking at include sports, pop culture, politics, history, essays, and popular science. The body of your query should have a brief author bio, a description of your story, and 10-15 pages of your manuscript.
11. Tracy Marchini
Marchini is a recent addition to BookEnds Literary Agency. She is looking for queries about picture books as well as genres aimed towards young adult and middle grade readers such as magical realism, nonfiction, historical fiction, thrillers, mysteries, and contemporary. To submit your query, fill out the application in the link above.
12. Carly Watters
Watters is the senior literary agent at P.S. Literary Agency, and she is currently looking for new clients. That genres that she is interested in include women's fiction, non-fiction centered on a specific platform, thrillers, commercial fiction, and upmarket fiction. In an email towards her, include the story's genre, title, word count, and a brief introduction. Also add in a concise author bio, along with a short description of the novel.
13. Rachel Crawford
Crawford joined Wolf Literary Services at the end of June. For fiction, she's interested in literary fiction, commercial fiction, and young adult fiction, especially dystopians, apocalyptic, or eco-fiction. For non-fiction, send her queries about psychology, science, technology, and futurism. Along with your query letter, you should also include a 50 page sample of the story. For non-fiction query submissions, write an in-depth proposal.
Rodgers is an associate agent at The Rights Factory looking for queries about a variety of genres including history and historical fiction, memoir, politics, non-fiction, women's fiction, literary fiction, popular science, and commercial upmarket. To submit a query, fill out the application in the link above.
BONUS AGENT: Steven Salpeter
Steven Salpeter works for Curtis Brown, and is seeking a wide variety of commercial fiction and nonfiction.
He accepts queries via an online submission form, and promises to respond within 3 weeks if he wants to see more of your manuscript.
Also check out his personal website, which contains the latest information on his clients and book sales.