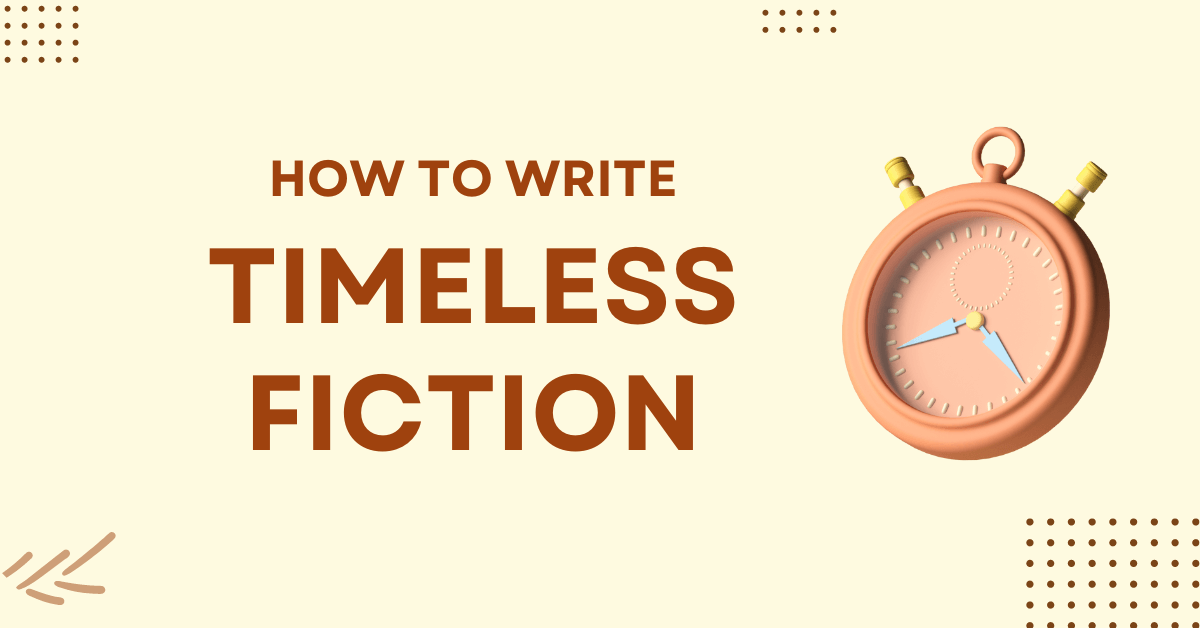 What exactly is 'timeless' fiction? In essence, it's a piece of work that withstands the passing of years, even decades, maintaining its relevancy and charm.
The danger is that your fiction won't age well, and in 10 years certain references will make readers scratch their heads, either bewildered or feeling like your book is dated.
This guide aims to provide the strategies to help ensure your book is timeless. We will explore:
the traps of writing in this present moment
the importance of understanding trends
the pillars of timeless fiction
the delicate balance between timelessness and capturing the zeitgeist
Slang, technology, pop culture
To begin, let's identify the obstacles that can tether a story to a particular time and hinder its longevity. These elements include language, technology, and pop culture references, all of which require careful use to maintain timelessness.
Language and slang
The lingo of a particular era can lend authenticity, but it can also firmly anchor a piece in time, eventually making it dated. To avoid this, you can utilize universal language, avoiding era-specific phrases.
Writers like Hemingway and Orwell crafted timeless pieces with simple, clear language. You can also invent your own slang if the narrative demands it, as Anthony Burgess did in 'A Clockwork Orange.'
One of Orwell's most timeless and straightforward quotes comes from his novel '1984':
"War is peace. Freedom is slavery. Ignorance is strength."
This sentence, despite its simplicity, encapsulates the paradoxical nature of authoritarian regimes, and it remains relevant across generations.
Technology references
Referencing technology is a double-edged sword. It can root the story in its time, but as technology changes at a rapid pace, these references can become obsolete.
Rather than using specific devices or platforms, consider using broad terms, such as 'social media' or 'phone.' Tom Clancy's 'Net Force' series offers an example of technology references that aged quickly, with its focus on a version of the internet that's now outdated.
Music and pop culture
Pop culture references can add color and context, but also risk dating your work. Instead of using explicit references, you can describe the feeling evoked by a particular piece of music or cultural event.
Kurt Vonnegut's 'Slaughterhouse-Five' remains timeless despite many pop culture references, primarily because they are tied to universal themes of war and humanity.
Navigating trends
Next, we dive into the ebb and flow of genre trends and societal movements. A keen awareness of these elements can enrich your story, but to remain timeless, they should be woven subtly and skillfully into your narrative.
Understand your genre's history
Being aware of the trends and history of your genre can help avoid overused tropes. This knowledge allows you to innovate and pay tribute to classic elements without recycling clichés. 'Game of Thrones' by George R. R. Martin subverted many fantasy tropes, making it feel fresh despite its traditional setting.
Culture and trends
Societal movements can shape a book's relevance. Incorporate them subtly without making them the centerpiece, unless you want your book to be a time capsule of an era.
'To Kill a Mockingbird' has aged well because its exploration of racial injustice and morality is as pertinent today as it was when it was written.

The symbol of the mockingbird epitomizes innocence, so its destruction signifies the loss of innocence, a theme that maintains its relevance more than 60 years after the book was originally published. Here's a well-known quote from the book as an illustration:
"Atticus said to Jem one day, 'I'd rather you shot at tin cans in the backyard, but I know you'll go after birds. Shoot all the bluejays you want, if you can hit 'em, but remember it's a sin to kill a mockingbird.' That was the only time I ever heard Atticus say it was a sin to do something, and I asked Miss Maudie about it. 'Your father's right,' she said. 'Mockingbirds don't do one thing except make music for us to enjoy. They don't eat up people's gardens, don't nest in corncribs, they don't do one thing but sing their hearts out for us. That's why it's a sin to kill a mockingbird.'"
Pillars of Timeless Fiction
The backbone of any timeless narrative consists of universal themes, complex characters, and a solid understanding of the craft of storytelling.
Embrace the universal
Timeless stories often center around universal human experiences and emotions. 'Pride and Prejudice' continues to resonate because love, class struggles, and the quest for independence are timeless themes.
The opening line of the novel humorously highlights societal pressures related to marriage and wealth:

"It is a truth universally acknowledged, that a single man in possession of a good fortune, must be in want of a wife."
Craft complex characters
The relatability and depth of characters play a critical role in creating timeless fiction. People relate to characters who embody universal human traits and feelings.
Develop characters with evolving motivations and personal growth to keep your readers engaged.
Focus on your craft
Excellence in storytelling craft is key. Aspects like plot structure, thematic exploration, and world-building have enduring relevance. Constantly improving your craft can ensure that your work remains relatable. Resources like 'The Elements of Style' by Strunk and White or online writing courses can be invaluable.
Philosophy of Timelessness
Finally, let's explore the broader philosophy of timeless fiction and its practical application: how to create an enduring ambiance through detailed descriptions, and the balance between timelessness and capturing the zeitgeist.
In-depth and thoughtful description
Detailed descriptions can contribute to a timeless feel. Rely on sensory and emotional descriptions rather than time-bound concepts. The way F. Scott Fitzgerald described the glitz and melancholy of the Roaring Twenties in 'The Great Gatsby' continues to captivate readers:
"In his blue gardens men and girls came and went like moths among the whisperings and the champagne and the stars. (…) At high tide in the afternoon I watched his guests diving from the tower of his raft, or taking the sun on the hot sand of his beach while his two motor-boats slit the waters of the Sound, drawing aquaplanes over cataracts of foam. On weekends his Rolls-Royce became an omnibus, bearing parties to and from the city between nine in the morning and long past midnight, while his station wagon scampered like a brisk yellow bug to meet all trains."
Timeless or trendy: a delicate balance
Is it even possible, or desirable, for a work of fiction to be truly timeless? While it's appealing, remember that capturing the zeitgeist has its own merit.
Consider '1984' by George Orwell. While some aspects may seem dated, its central 'Big Brother is watching you' theme feels increasingly relevant:
"Behind Winston's back the voice from the telescreen was still babbling away about pig-iron and the overfulfilment of the Ninth Three-Year Plan. The telescreen received and transmitted simultaneously. Any sound that Winston made, above the level of a very low whisper, would be picked up by it, moreover, so long as he remained within the field of vision which the metal plaque commanded, he could be seen as well as heard."
Conclusion
Writing timeless fiction is a delicate balancing act. It requires an understanding of the perils of time, a deep dive into trends, a strong grasp of universal themes, and complex characters, along with honed storytelling skills.
While it's important to aim for timelessness, don't shy away from reflecting the era you are part of. It's in this balance where truly enduring stories are born. Happy writing!